Somerville, Massachusetts, adjacent to Cambridge, has long been a residence area for students, and is currently growing in number of young urban professional residents. This change has brought new attention to a few previously culturally underdeveloped neighborhoods in the area, some of which have not been known for either cleanliness or hip quotient. Part of this attention has been on renewing live music venues, where a "scene" is gradually building steam, and people around Boston are starting to take note.
Once upon a time, the greater Boston area was host to a prodigious number of venues for local and national music acts. One by one, several venues catering to rock music closed their doors, including The Rat in Kenmore Square, Mama Kin's on Lansdowne Street, and The Paradise Rock Club on Commonwealth Avenue. These closings were due in part to hassles with zoning, licensing, injuries resultant from overcrowding, and other conflicts with city ordinances. This trend resulted in leaving only two major areas for live rock acts—Lansdowne Street, home to Axis and Avalon, and Central Square in Cambridge, boasting The Middle East and T. T. the Bear's Place. Common to these two areas is the proximity of venues, which in both cases are all on the same block and monopolize the live music scene. Lansdowne's venues are primarily swanky dance clubs that impose time constraints on live performance, thereby making the music secondary, whereas Cambridge venues often run into problems with noise complaints. Clearly, it is time for other areas around Boston to provide alternatives for seeing live music.
Paradise has reopened (following a resolution of legal woes) but still caters to national rock acts and follows shows with DJ events, which places it in the same Boston nightlife category as the Lansdowne clubs. Jamaica Plain's Milky Way and a remodeled Linwood Grill in The Fenway area are some of the newer alternatives. Somerville is also providing alternatives, but the exciting difference is that the venues in Somerville are providing a greater variety of performers in what is beginning to look like a scene.
Outside of Davis Square on the west side of Somerville (close to Tufts University and home to venues Somerville Theater and Johnny D's), the areas of Union and Inman Square, which lie to the east, have been the primary places where a younger culture has made a strong impression. Inman Square is home to a small venue called the Abbey Lounge, which is attached to a greasy-spoon style restaurant. The Abbey Lounge is very small and not too impressive in terms of sound or design, but because of its quaintness and focus on local independent musicians, the venue is a breath of fresh air from the Lansdowne/Central Square-dominated nightlife.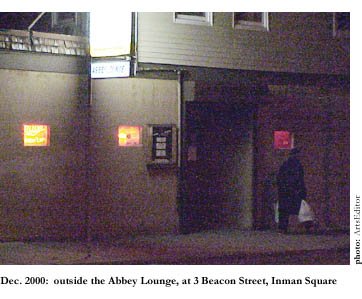 One of the newest additions to the bustling Somerville scene is Lilli's, at 608 Somerville Avenue. Lilli's opened six months ago in the space previously occupied by Club 3. The proprietors made it known from the start that they were supporters of the local music scene by booking two popular local bands, Buffalo Tom and Fuzzy, to christen the club's opening. Since then, Lilli's has continued to book local bands, such as Real Kids, Upper Crust, and Cave In. Weeknight bills have featured all-local acts in a forum that promotes a familial atmosphere. One recent bill included a varied list of performers including Thalia Zedek (formerly of Come), Francine, and Magic 12, who celebrated the release of a new CD by bringing along a cake to share with the audience. Another recent show was a free ASCAP-sponsored event featuring harder-edged fare from the up-and-coming local bands The Gentlemen, The Pills, and headliners Waltham, which was so well attended that many had to wait outdoors after the show had begun (we stood in line for about 20 minutes). In addition, Lilli's draws national (and international) music as diverse as the country crooning of Jimmie Dale Gilmore, the world alternative of Banco De Gaia, the blues guitar of Duke Robillard, and the electronica of DJ Spooky.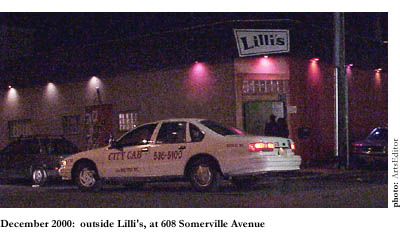 The industrially grimy area of Somerville Avenue is not the most desirable or likely place to find a pleasant evening out, but those who've made the effort recently have been rewarded, for Lilli's has a distinctly sophisticated style in its decoration and presentation. Once past the ticket window, a bright, welcoming hallway leads into the club proper, which has tables opposite the bar for limited seating. The rear of the club is designed for "hanging out," and as such is not the best place to view (or clearly hear, due to the structural elongation) a musical act. There is a cleverly stocked jukebox, however, and background DJ or organ music for nights without a major performance. Past the bar area is a sizable floor with standing room enough for a few hundred patrons. The red-curtained stage area looks like something straight out of Twin Peaks and lends a theatrical air to an overall retro atmosphere. The stage is decidedly the heart of Lilli's, where music—and musicians—are king. Musicians who have played Lilli's are regularly treated like royalty. This notion is exhibited by the performers' lounge, which gives unusually comfortable and spacious backstage surroundings for the bands (the only club dressing room space any larger in Boston is found on Lansdowne Street, but is shared by Axis and Avalon, and…well, is not as clean). But the royal treatment doesn't end at the dressing room. James Apt, who plays bass supporting Magic 12 and other local bands, says "they have one of the nicest sound guys on the planet." Mr. Apt should know, having toured internationally with The Willard Grant Conspiracy and Six Finger Satellite.
Music at Lilli's is consistently eclectic, and benefits from the collective prior experience and connections of the club's proprietors. This helps them to be successful in the Boston music playing field, where the survival of a club is contingent upon the "name brand" musicians it books. There does exist at Lilli's a bit of "made for scenesters by scenesters" attitude that may not agree with the casual concertgoer, and the attention to detail in the club's decoration sometimes echoes the opulence of Lansdowne clubs across the river, amounting to a small measure of contrivance, but in general a "nice place."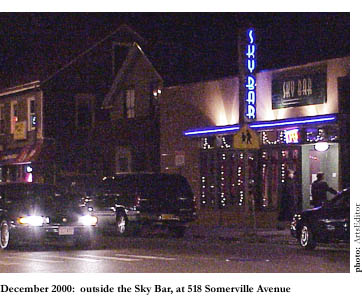 The Sky Bar, right down the street from Lilli's at 518 Somerville Avenue, could be described as the T.T.'s to Lilli's Middle East. It provides a less pretentious place to view exclusively local performers. It is a little less eclectic than Lilli's, booking predominately heavier rock or independent musicians. It also seems to be more of a bar than a club, with pool tables crowding the floor, windows at streetside, and no fancy entryway as found at Lilli's.
The decoration of Sky Bar is more over the top than Lilli's, and certainly more so than Abbey Lounge, which makes no bones about being a small-time neighborhood bar and grill. Sky Bar might best be described as less of a showy lounge than Lilli's, with black walls and blacklights overhead that make the patterned carpet almost three-dimensional. Folks line the bar to grab some of Sky Bar's drink specials as local bands such as The Medea Connection and The Kitty Kill easily fill the room with guitar-driven rock.

These new clubs in Somerville provide the live music lover with choices other than venues in Central Square and on Lansdowne Street. It is no longer unusual to hear the throbbing drums of local rockers or lively Latin rhythms escape from one of these clubs on any given night. With time, the Somerville clubs will create their own scene.