The 56th Annual Antoinette Perry ("Tony") Awards aired on the evening of June 3, 2002 from 8 to 11 pm, and by the next day no self-respecting columnist could craft his response without at least commenting on the night's premier event—Elaine Stritch. To call this woman an event is no misnomer, as she earned her first ever Tony Award that night precisely for making an event of herself, for over two hours each night in Elaine Stritch: At Liberty at the Neil Simon Theatre. Clearly she has become accustomed to doing things her own way while on stage. She interrupted her presentation of the award for Best Book of a Musical to lecture the audience on the bookwriter's pivotal role in any show. They provide the "reasons to sing and reasons to dance," she told us. No doubt her impromptu lecture was born of her oft-expressed respect and love for John Lahr, the bookwriter of At Liberty. Later in the evening, when she won her award for Best Special Theatrical Event, she aimed to present a long-lasting tribute to the work and dedication that made her show a success—a little too long-lasting even for the relatively patient Powers That Be who decide when to cut acceptance speeches short. "Oh please don't do this to me!" she could be heard screaming, through tears, just before the first commercial began.
I can't say I blame the critics for capitalizing on Stritch's theatricalism. Aren't they the moments we take away from these award shows long after we have forgotten that Mary Zimmerman won for Best Direction of a Play (for Metamorphoses)? What I can say I don't understand, though, is why so little attention has been paid to another of the evening's events—Harold Prince's surprising speech, delivered just before he presented the award for Best Direction of a Musical to John Rando (for Urinetown). Supported by the weight of twenty—count 'em 20—Tony Awards amassed during his legendary career, Prince told us:
"It's been 47 years since I attended my first Tony celebration. And none of those years has been quite so traumatizing or strengthening as this past one. And mindful as I am of the value of celebrating Broadway's past, I am more than ever aware of the need to protect its future. Don't sell audiences short. They are open to the adventurous, the challenging, even the dangerous. The message is clear enough. We will be judged by how bravely we bring the next generation of theater artists and their work to those audiences. It's good for our future, and by the way it's good for business."
Without waiting for applause, he launched into the nominees for the award. He barely had any applause to suppress. This year's theatrical equivalent of Ralph Waldo Emerson's "The American Scholar," which called for the nation's writers to take the risks necessary to gain the attention and respect of their readers, passed by quietly and modestly. While Ms. Stritch and her powerhouse personality may have provided the highlight of the evening, it is hard to look anywhere but to Mr. Prince to frame a discussion of this year's Tony Awards ceremony. As he said himself, he has been at the forefront of the business before many of us knew it existed, so while he may not be Ralph Waldo Emerson, he is certainly worth listening to.
It is interesting that Prince should choose this particular year to make a plea for adventurous new theater. Only two musical revivals were nominated for Best Revival of a Musical, rather than the usual four. The Tony for Best Play went to Edward Albee's The Goat or Who Is Sylvia?, a gesture that is necessarily a tribute to the power of provocative theater, as Albee and his staff said themselves. The very award Prince presented, along with Best Book and Best Original Score, went to Urinetown: The Musical, whose very title provides a signpost for just how "adventurous" the musical is. In many ways, it would seem, this year's Tonys were vindicating none other than the very kind of theatrical work that Prince was yearning for.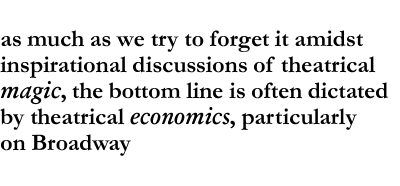 At the same time, Urinetown did not win for Best Musical; the award went to Thoroughly Modern Millie, which is based on the Julie Andrews and Mary Tyler Moore movie and covers safe and audience-friendly material, albeit with more than its share of talent, energy, and—as the performance of the number "Forget About the Boy" during the ceremony revealed—a remarkable leading lady. The show may be of high quality, yes, but "challenging" and "dangerous?" Clearly Millie's world lies nowhere near Urinetown (despite presenter and nominee John Leguizamo's suggestion that, in fact, his native city used to go by that name). Arguably the two best and most daring new scores to be presented this season, Jonathan Larson's unearthed Tick, Tick…Boom and Jason Robert Brown's The Last Five Years, played off-Broadway and never made it to the Great White Way. Even more noteworthy, Prince's speech comes at the end of a season in which one musical, Stephen Sondheim's Assassins, closed before even starting previews because it was deemed too challenging and too dangerous for post-9/11 audiences. The show, which was to have featured such talents as Douglas Sills and Raúl Esparza, would surely have shaken things up had it been allowed to go on and, thus, been a Tony contender.
Although the controversial decision to pull the plug on Assassins back in September was indeed the result of debates over just how far a show may go in provoking a particular audience (the musical revolves around the stories of those Americans who have tried, whether successfully or not, to kill the nation's president), it was equally—and probably ultimately—the result of practical business forecasting. In the wake of the terrorist attacks, the chances of a musical about presidential killers bringing in large audiences were about as good as Osama bin Laden's chances of becoming an evangelist preacher on a Christian TV network. As much as we try to forget it amidst inspirational discussions of theatrical magic, the bottom line is often dictated by theatrical economics, particularly on Broadway. It is this reality that Prince was addressing in his concluding sidebar, "and by the way it's good for business."
Whether or not Prince is completely right about that is another question. In recent years, Broadway has gained a reputation for being unfriendly to new works, particularly new musicals. Shows like Mamma Mia!, composed entirely of well-known ABBA hits, and Oklahoma!, a name recognized by even the least theatrically exposed, consistently do very well on Broadway, even though the two shows were deemed worthy of only one Tony Award between them, while less well-known works have a more difficult time financially. The Goat grossed around $212,000 the week the ceremony aired, faring not much better (though not much worse) than its straight play competitors. On the other hand, Urinetown: The Musical grossed upwards of $367,000 and played at over 94% capacity in the same week, despite the fact that it has been on the boards since the fall—a very respectable run for a work of its nature.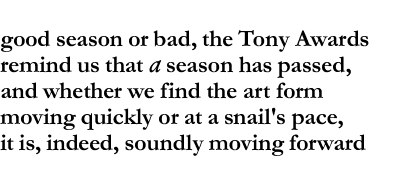 The debate over the relationship between adventurous theater and the box office will rage for a long time to come, as will critical analyses of the quality of this season or that season. To cease the debate would be to stagnate the development of the form. In this sense, though Harold Prince may have oversimplified the issue, his instinct in addressing it was perfectly in keeping with the occasion. The Tony Awards provide us with an opportunity to look at the theatrical season as a whole unit, allowing us to apply our critical lenses for one last time before the next season begins. That opportunity, however, competes with the overwhelming sense of celebration each Tony Awards ceremony pours out in abundance. For three hours each year we are asked to rejoice in how live theater has continued to shower its graces onto the streets of New York during the past year. The difficulty is in deciding just how to balance these two often-conflicting instincts—to critique and to celebrate. Perhaps this is why the audience was not sure how well it should offer the legendary director applause, or why he showed so little eagerness to receive it.
It is easy to pull out our cynical firearms when hearing Bernadette Peters tell us how great this season has been for the American musical. The 2001-02 season lacked any great successes on the level of The Producers, The Lion King, or Rent. In light of the theatrical drought immediately following September 11th, the theater community may feel it is lucky to be alive at all. As the Tony evening progressed, however, the excitement, spontaneity, and apparently endless optimism surging from Radio City Music Hall for three hours was enough to make us drop our weapons, so long as we allowed ourselves to get swept up in the proceedings.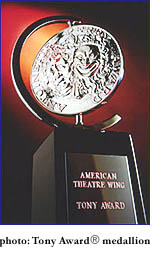 Good season or bad, the Tony Awards remind us that a season has passed, and whether we find the art form moving quickly or at a snail's pace, it is, indeed, soundly moving forward. Sutton Foster (Tony winner for Leading Actress in a Musical, Thoroughly Modern Millie) thanked her show's creative team for putting their trust in an unknown like herself—a new star is born. Eternally toothy John Rando was near hysterics at being awarded the Tony for Best Direction of a Musical by his idol—a new, young visionary has emerged. There were tears in the eyes of John Lithgow (Tony winner for Leading Actor in a Musical) as he praised his otherwise unsuccessful show, Sweet Smell of Success, and thanked the community for welcoming him back—a talented and serious actor fell in love with his show and gave his all to honor it. After nearly 70 years, the brilliant Elaine Stritch finally gets the award she has deserved for far too long, and she kidnaps the moment for herself—a legend is crowned, and history is made (or, we might say, rectified).
At the risk of sounding like the DJ who concludes the Prom Queen competition by handing a rose to every girl and saying, "You're all prom queens tonight!," it is also essential for us to take the time to celebrate the fact that theater continues to do better than exist. The challenging and brilliant performances that Harold Prince craves come not from cynicism but from sheer love of the art form itself, and as long as we can continue to allow our future theater artists to celebrate that form, the season—and the Tony Awards ceremony—has been a success. Near the tail end of the evening, Michael David accepted his Tony Award as producer of this year's Best Revival, Into the Woods. While in the spotlight, he used the opportunity to make a short speech of his own, saying, "At a time utterly unimaginable, we all put a season together—a season, if I may posit, the cynics and self-important notwithstanding, is possibly the most extraordinary season ever on Broadway." Disagree all you want—and don't be surprised to see me join you—but the fact of the matter is, no matter what anyone says, I can still smile when I walk down 42nd Street and see the billboards for Thoroughly Modern Millie, Into the Woods, The Goat, and Private Lives. Lord knows at least we were there, and we're still here.