There is nothing like finding a family in the darkness. On the night of Saturday, July 20th, in the first three rows of the same off-Broadway theater where David Ives' All in the Timing originated, a group of fifteen late-high-school and early college students—myself included—looked on as our dramatic and artistic psyches exploded on the stage before us. Few would have believed we'd been complete strangers just one week earlier. We came from all over the continent—from California, Texas, D.C., even an unobtrusive suburb to the north of Boston. Chosen from among a pool of applicants, we were brought together for a single week (July 13th through the 21st) for Young Playwrights Inc.'s Summer Urban Retreat. That week became a study in how strangers find a family, and how the homeless find a home.
For many of us, our hearts had leaned perennially to Broadway; for others, they leaned to Hollywood. For all, they hid a passion for what could be borne from the words we use and the characters they could create. Constantly thinking about how theater can capture the world around us and transform it into a laugh, a tear, or a new perspective, we could find a great scene or a well-placed lyric more exciting than the best basketball game of the season. In the course of our lives, we began, for one reason or another, to turn our thoughts into words, characters, and scenes. Perhaps we were able to find a group of people at our schools to share and discuss this process with. Perhaps we were only able to share it with our closest friends. But we instinctively knew that we were plugging into something much greater than the walls that surrounded our classrooms. We the theater geeks, the lonely artists, the wanderers, found in this small group of fourteen other theater geeks, lonely artists, and wanderers, a home, where our hearts no longer leaned alone.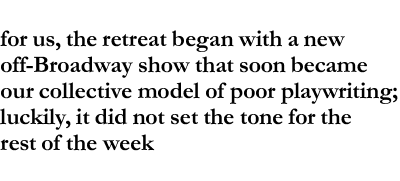 Within minutes of arriving at the 6th floor of Pace University, where my fellow retreaters and I were to spend our nights, I was debating the relationship between the Sondheim canon and the musical Rent, trying to convince a fellow playwright that the latter was as brilliant as any work in the former. Though I failed (probably why he groaned during the Rent sing-a-longs that inevitably filled later evenings), I knew instantly that I had come to a place where, quite simply, I fit.
Young Playwrights Inc. (YPI) is an organization founded in 1981 (by a theater artist no less illustrious than Stephen Sondheim himself) to encourage budding playwrights to develop their talents and to help them get recognized and even produced. Based out of New York City, YPI is perhaps most famous for its annual Young Playwrights Festival of new plays judged to be the best among the hundreds submitted each year. The organization holds other contests, conferences, workshops, and teacher training sessions; it even works as a publishing company for select plays by young writers. The Urban Retreat, of which this year's was the sixth annual, is open to playwrights ages 14 to 21 and is a week-long experience of seeing New York theater, learning about dramatic writing, traveling around New York City, and ultimately having a short (up to six minutes) original piece by each playwright performed in a one-night festival of staged readings.
For us, the retreat began with a new off-Broadway show that soon became our collective model of poor playwriting ("at least it wasn't like…," "that was almost as bad as…," "I'm on the fast track to recreating…"). Luckily, it did not set the tone for the rest of the week. The next night we saw Shakespeare in the Park perform Twelfth Night (my first visit both to Shakespeare in the Park and to this particular play), which was absolutely stunning. Of course, the fact that it starred Julia Stiles, Christopher Lloyd, Kristen Johnston, and others did not hurt the matter. Other shows included Cabaret (who'd have thought Uncle Jessie would make a great sexual deviant?), Into the Woods (featuring the most disturbing lullaby on Broadway), Metamorphoses (that other show providing its first row with towels), and The Goat, or Who Is Sylvia? (both Bill Pullman's autograph and a psychoanalysis of goat-intimacy!). With every show came at least two hours' worth of arguing, debating, and analyzing what worked, what didn't, what should have, and why. How could we help ourselves? No need for restraint when it's just us theater geeks.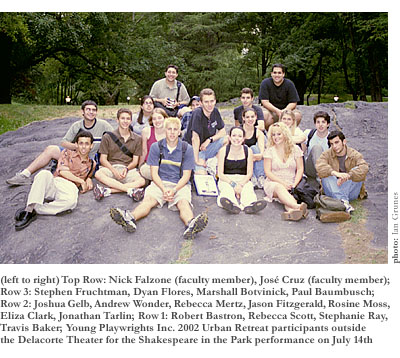 Though it is convenient to define each day by the show we saw, in fact we experienced a great deal more before each evening's trip to the theater. Out the Pace University doors at 8:30 every morning, rarely back before 11:30 at night, our potential intake of information and inspiration was pushed to the limit. We began at the YPI office with a two-and-a-half-hour class on Developing New Work, taught by playwright Kate Long. Essentially an exercise in improvisation, we chose people we knew personally (a sex-crazed teenager, a pair of nutty drama teachers, an actor whose only imperfection is an indentation in his rib cage, a closeted introvert, and a wise old librarian, among others) and turned them into dramatic characters, placing them in unique situations, exploring their dreams, and ultimately creating potential scenes for them to reside in—all under Kate's wide-eyed, southern belle direction.
Mornings with Kate were followed by lunches in the Big Apple's more relaxing settings: Battery Park, a ferry going to and from Staten Island, Bryant Park (where we saw Tony-Award-winner Sutton Foster perform in Broadway in the Park), Grand Central Station (where I learned that even train stations can be gorgeous), and, of course, Central Park. Though our less-than-expensive lunches were sometimes inedible, the hot dog stands that seem to sprout like weeds in New York City took good care of us, and we appreciated the chance to talk, jot down observations, and (especially by the end of the week) take a nap.
Upon our return to the YPI office, we were greeted by Mick Casale, a playwright, professor, and script doctor who bore a strange resemblance to YPI's founder. Though his career had taken him to places as far off as Norway, at least one among us was most excited that he had script-doctored Speed Racer. As opposed to Kate's abstract emotive techniques, Mick emphasized the more tangible concepts of form, structure, and the mechanics of playwriting. From Mick we learned that plot is the art of reduction and that "playwriting" is not a spontaneous work of genius but rather an "impulse followed by planning, exploding, and cleaning." Despite the frighteningly small amount of sleep we were getting, we listened like hungry lions to a herd of deer.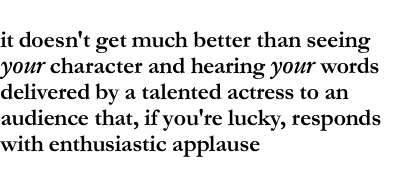 On Thursday we received our big "Assignment," which we had been made to wait for with much anxiety. Essentially, it was: Write a play of no longer than six minutes using at least one of seven available props. The next thing we knew, the fifteen of us, who had thus far built a simple family of theater lovers and theater critics, were transformed into a creative crucible. Some of us banged our heads against walls, others scribbled and scratched well into the morning, and each of us played the roles of writer, dramaturg, reader, and critic to turn our abstract ideas into real characters, real stories, and real dialogue. Just two days (and two very short nights) later we were sitting together at the Primary Stages Theater (after an electrical explosion knocked out lights in half the city, including the Cherry Lane Theater, where our festival was originally scheduled to play). We clutched neighboring hands and gnawed on pencils as professional actors (including Steve Hauck and Carine Montbertrand) performed our work, guided by professional directors who had interpreted our hasty creations for the stage. The festival began with a deep-voiced human Prologue announcing his intention to create a great new modern American drama, only to be shot down by his co-star and an irate audience member. As the evening went on, we watched a father's bigotry keep his son from confessing his homosexuality, a hungry husband concoct a fantastic dream á la Fiddler on the Roof to get a waffle from his wife, a lonely single man at a wedding find solace in a decorator, a couple be put on trial for the birth of their son, ex-lovers say a final goodbye at an airport, a young man make a pact with the devil to save his sex life, and finally a critic teach his artist friend a thing or two about her work.
The night was the perfect culmination to our near-magical week. I can tell you personally that it doesn't get much better than seeing your character and hearing your words delivered by a talented actress to an audience that, if you're lucky, responds with enthusiastic applause. As we walked out of our official off-Broadway debut, hands held and hearts warm, through Times Square on our way back to Pace University for our final night together, I don't believe I was the only one staring at the marquis that dominate the Great White Way, challenging the city, "I'll be back." Who knows what families we may find in the future? Who knows but that you may find a member of this, my new YPI family, walking beside me, the two of us still wanderers, still in the darkness, but no longer alone.