Trumpeter Itamar Borochov might be the most interesting jazz musician you'll hear in 2018. The young and highly original virtuoso just dropped an album that defies words in its embodiment of musical oxymorons. How can a jazz album be this lyrical, with enchanting melodies that shake the very bottom of your heart, and stay in your mind for days to come, yet bafflingly virtuosic, and hard-hitting? How can a jazz album sound so good, old-time good, seasoned, soulful, with a real knowledge and assimilation of the tradition, yet totally fresh, expanding the genre by infusing jazz with earthy exotic sounds of a distant ancient land? The answers are in Boomerang, an outstanding album by Israeli-born, New York-based trumpeter and composer Itamar Borochov. He's a prodigy of a musical family of Jewish descent, stemming from the Emirate of Bukhara. A bebop aficionado who's cut his teeth in jazz clubs around the country for the past decade, he's a stylist whose sense of style caught the eyes of movers and shakers of the industry, landing him roles in film and TV. (You might have seen him as the suave trumpeter in the recent Stella Artois commercial.) He's a spiritual man who says he's looking for "traces of the divine in elegant sophistication", and somehow he brings it all together on Boomerang.
Your album was recently released in the States. Please tell us how you would describe your music.
I imagine a singer, a storyteller, performing a call for prayer, accompanied by a string quartet, and a tribe of drummers, played by an acoustic jazz quartet in a jazz cellar in New York City. In other words, I'm deeply rooted in jazz tradition, and heavily influenced by the aesthetics of the old world—mainly of the Middle East and North Africa. There's a serenity to it and a fire. Sometimes it's like playing as if you got punched in the gut. Sometimes it's like you're seeing angels.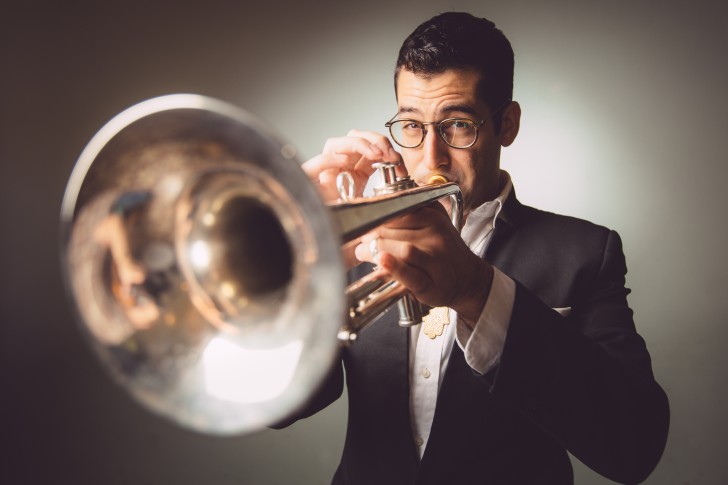 How did you start playing the trumpet and then what brought you to jazz?
I started on trumpet at age 11. While playing blues guitar at the time, I wanted to pick up the trumpet as a second instrument. I come from a musical family, and at that time I already played violin, classical piano, and recorder. The trumpet is a demanding instrument, and she wants all your attention, so in no time I devoted myself to the trumpet and fell in love with it. Jazz came as a natural extension of that. I was a lazy kid and never wanted to practice from the classical books, I was mainly listening to my favorite records by Miles Davis, Kenny Dorham, Lee Morgan, Clark Terry, Booker Little, Dexter Gordon, John Coltrane, Yusef Lateef—and tried to pick up what I could from that. I developed my technique later on when I moved to New York.
You're also involved with film scoring and acting. How did you get into film?
I'm a bit of a film buff, and was a film major in high school, as we didn't have a music program at my school in Jaffa. People say that my music sounds cinematic, like it's a soundtrack for something, and I think that's quite true. Maybe that's why several of my tracks got picked for movies. From my latest album Boomerang, the track "Shimshon" is featured in the short film Crimson Love. That was featured in Cannes Film Festival, and "Avri's Tune" got placed in an upcoming JFK documentary.
I came on board to the film Professional Cuddler as a film composer at first. It's a short about an Israeli trumpet player in NYC, and at the first meeting the director asked if I'd like to audition for the part, and the rest is history. The film became quite a hit on the festival circuit, and after that came the Stella Artois commercial, and now another short that's shooting this winter in Philadelphia.
You have a very distinct sense of fashion. Is this a passion of yours?
Thank you! (Laughs.) I have an image in my head, and I rarely find pieces that correlate with it. I have a few basic designs that I had made, and I would love to make more of my own clothes.
What is art for you?
Everything when taken to the highest level of quality. Bobby Sanabria (the great Latin percussionist and band leader) once told me, "We're human, so we'll never be perfect, as only God is perfect. We try to be as close to perfect as possible, thus being as close to god as possible."
You've been touring worldwide extensively, and with Boomerang now released, your name has been all over the media. How is your music perceived in the U.S. as opposed to other audiences around the world?
Well, this [jazz] is American music, and specifically, Black American music. The audience in the States knows what's good and what's not, and in my observation, reacts usually to the rhythm, and danceability of the music. The groove comes first. Our shows in the States are usually packed, and I feel like people react strongly to the fact we bring a groove that's deeply saturated in feeling. The emotional impact is strong for a lot of folks, and it hits them hard. I try to come with an open heart to every show, and when people tell me they felt the music in their hearts, that's the stuff. That's why I do it.
What are your next projects?
I'm recording a new quartet album this March in Paris. And also starting to produce a record for Borochov Dynasty—a family band with my brother and father, where we rearrange Bukharian sacred music (the music passed down in our family for generations). I'm shooting another movie this winter and touring worldwide through this summer.