In 1911, two French authors devised a literary villain unlike any other before or since, a character whose terrible deeds and shroud of mystery would instigate not only several pulp novel sequels, but also films and, ultimately, a Mexican comic book. In the character Fantômas, Marcel Allain and Pierre Souvestre created an anti-hero so vile he was known as l'Empéreur du Crime. Fantômas' identity is cryptically described as no one and everyone, his purpose nothing and everything. Anonymity of guise and visage lent a greater level of terror to the Fantômas stories, and facilitated the diversity of the character's interpretation across a variety of media. The intriguing exploits of Fantômas in book and film have inspired many artists, famously including Rene Magritte, Kurt Weill, Luis Bunuel, Alain Resnais, and Julio Cortazar. Now add four avant-garde American musicians to that list: Mike Patton, Buzz Osborne, Dave Lombardo, and Trevor Dunn who, collectively, call themselves Fantômas, and have just released their second CD on Ipecac Recordings, The Director's Cut, which features their dynamic versions of themes from great motion picture thrillers.
Fantômas (the band)'s roots stem from the post-punk alternative metal scene, but deviate drastically from there. The common element is that each member is a master innovator of his given instrument, and open to new and unheard forms of musical expression. In this way, Fantômas is something of an avant-metal supergroup. Mike Patton served for a decade as lead singer of the pioneering funk-metal combo Faith No More. Formed in 1982, Faith No More were early purveyors of the marriage between thrash and rap, which ultimately led to bastard children like Limp Bizkit and Kid Rock, who found phenomenal success as crossover acts in more recent years. The band went through a series of unspectacular vocalists before Patton, whose arrival in 1988 brought not only a new competence to their sound, but also their biggest hit, "Epic." The MTV staple brought them instant fame, and they returned the favor by releasing 1992's densely sculptured follow-up Angel Dust, which was critically well-received but disoriented most of their audience. During the 90s, Patton pursued several solo and side projects, including co-mingling west coast metal with downtown New York no-wave in the genre-defying cult favorite Mr. Bungle. When Faith No More finally broke up in 1998, Patton decided to form Fantômas, and went about recruiting some of his favorite musicians. Buzz Osborne, also known as "King Buzzo," has fronted the Melvins for over 15 years, as guitarist and singer. The Melvins' trudging, bottom-heavy sound and penchant for bizarre experimentation made Osborne the perfect fit for Fantômas. Drummer Dave Lombardo helped write the book on new metal in the 80s with thrash titans Slayer. He left that band in 1991 to form Grip Inc., and now takes on a variety of percussion duties in Fantômas. Bassist Trevor Dunn is also a member of Mr. Bungle and has participated in numerous improvisational jazz projects as well as a breadth of other forms.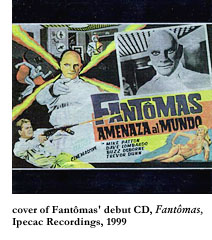 Fantômas' self-titled 1999 debut on Ipecac (a label which is part-owned by Patton) defied all descriptive labeling. The flashy packaging of the CD seems to be a hybrid of the classic suspense films and 60s comic books conjured by the band's name. On the back, the album's tracking is listed as "Book One: Pages 1-30," and at 42 minutes total, the 30 songs (or "pages") are mostly around a minute long (the longest is over 5 minutes and the shortest, at :04, is "Page 13," a quick breather between busy noises, and a gag duplicated at track 13 on The Director's Cut). But each Fantômas minute packs in about a Beethoven symphony's worth of sections and an entire Yes album's worth of time signatures, quickly blasting between Patton's operatic squeals and mad dog yelps, guttural guitar, thudding polyrhythms, peculiar theremin blips and sampled oddities, all of it tightly held together under the steady watch of post-modern conductor Patton. Each of the album's anonymously titled mini-songs shape-shifts frenetically like the band's namesake—you can never quite pin Fantômas down. Its mind-boggling combination of hardcore, classical, free jazz, metal, punk, and so on is so complicated and schizophrenic that audiences were stunned when the band duplicated the CD, page for page, at live performances, where their sonic mysteries are confounded further by the astounding methods with which the band harvests the disparate sounds from their instruments and weaves them into the tightly-packed unified musical entity called Fantômas.
The next chapter commenced in July 2001 with the release of The Director's Cut, on which the band apply their unique brand of musicality to classic movie themes. The results are revolutionary, combining lyrical, flowing passages with sharp bursts of metallic paranoia. Admittedly, it's a concept copped in part from Patton's pal John Zorn, whose progressive jazz metal outfit Naked City essentially did the same thing in 1989 with maddeningly raucous takes on themes by Morricone, Mancini, Goldsmith, Delerue, Barry, and others. Fantômas, however, have expanded the idea to an album's length, and have most amazingly retained, rather than distorted, the spirit of the originals. This collection seems to build upon, rather than deconstruct, the scores and composers selected.
The films whose themes are represented on The Director's Cut were not necessarily chosen for their familiarity. In fact, only one third of those films showed up on the American Film Institute's recent list of the 100 Most Thrilling American Movies. But taken together, the selections provide an excellent cross-section of the greatest and most influential soundtrack composers of the 20th Century. The album, as with the band's recent European live sets, starts with the familiar and haunting strain of "The Godfather Theme." But just when we feel we are in a comfortable and familiar place, the band chimes in at full metal throttle in a free-form fury. It jars us out of our moment of reminiscence, and forces us to remember that the movie in question was about violence and corruption. In this way, Fantômas renews the element of thrill to the music, and brings the soundtrack experience closer to that of the film itself. Purists may find the process to be too revisionist, but they miss the point—that these pieces are as interpretive of the music as they are of the film; and besides, Patton's undercurrent of irony and black humor runs so deep it would be hard to decry this album, because it maintains such an element of fun throughout.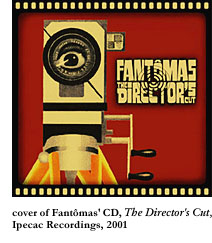 All the masters of cinema music are here: Bernard Herrmann's tense music from Cape Fear is given the heavy riff treatment, and Jerry Goldsmith's The Omen (Ave Satani) is a freaky exercise in doom-and-gloom metal growl meets Wagnerian thunder. John Barry, best known for his James Bond film music, and Ennio Morricone, who scored "spaghetti westerns" like The Good, The Bad and The Ugly, are both represented by relatively obscure themes that fall between those famous earlier works and their later, more romantic masterworks. One Step Beyond is actually a television show from the late 50s, and one of the most ominous but beautiful themes ever written, which Fantômas accurately depict with all the intensity of Harry Lubin's relatively quieter and gorgeous original. One of the best tracks is the theme from Rosemary's Baby, by Christopher Komeda, a complicated and beautiful piece that expertly teeters between the film's juxtaposed innocent infant and the foreboding demonic presence, and in the process shows off Patton's stunning vocal ability.
For a relatively darkly-lit album, it may seem odd that there are two themes here by Henry Mancini, whose music is often associated with bouncy choral arrangements and lilting strings, but his jazzier scores truly lend themselves to interpretation, and Fantômas' arrangement of Charade is fascinatingly complex without destroying the simple beauty of the theme. Mancini's Experiment In Terror is actually one of the lighter moments on the album, along with the sentimental children's song from 1955's Night of the Hunter. The newest material here is also some of the more peculiar, choice-wise: Henry: Portrait of A Serial Killer and Twin Peaks: Fire Walk With Me, the Angelo Badalamenti theme from David Lynch's big-screen "prequel" to the cult TV series. In most cases, the more bizarre the material is the better. But what's most shocking, and possibly subversive, is how straightforward several of the readings actually are. Yet make no doubt about it: this is a Fantômas record. Despite the lack of original compositions, the cleverness and creativity evidenced in the arrangements is staggering.
Because of the semi-familiar territory of movie themes, this album is certainly more approachable than Fantômas' previous release. It's less difficult a listen, yet still plenty weird enough to be considered avant-garde. The Director's Cut also brings the band Fantômas closer thematically to the character Fantômas, by more explicitly referencing the thriller genre and the film medium that made the pulp novels by the likes of Allain and Souvestre into such visually arresting fare. This latest release also elaborates upon the dramatic element inherent in their first CD by utilizing compositions already loaded with stories of the fantastic and the grotesque. The band has another album in the works, expected to be out by 2002; it will be interesting to see if their third album retains the narrative stylistic quality of these adapted movie themes, or more closely resembles the reigned-in wildness of their first release. It seems that no matter what they do next, it is bound to challenge the listener and push the envelope even further out. I, for one, can't wait.