The following article reflects the abbreviated online version of our magazine that was produced in conjunction with a monthly print issue.
---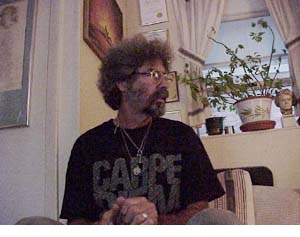 "We were based at the time out of the Charles Street meeting house on Beacon Hill, which was a much different place in those days. I remember there was an article in one of the local papers that said 'Don't Let Beacon Hill Become Beatnik Hill!'" Jack Powers laughs as he recalls his initial experiences with the Beat scene in the 1960s and 70s and the forming Stone Soup Poetry.
Powers not only initiated and has managed Stone Soup throughout its 28-year history, but was also instrumental in launching the notoriously innovative Beacon Hill Free School in the 1970s, which encouraged people to devise, teach, and participate in educational courses, all at no charge. Stone Soup currently operates in Cambridge at the Zeitgeist Gallery. Every Monday evening hundreds of poems are read before a devoted audience, which ranges from established writers to college freshmen. In addition to the meetings, Stone Soup airs weekly on cable and radio.