ArtsEditor originally met with Jack Powers in August 1999 and published our interview with him in the following month's print issue. In looking back at our first months as a publication, we've decided to provide the interview online for the first time, including additional imagery and a sound clip.
"We were based at the time out of the Charles Street meeting house on Beacon Hill, which was a much different place in those days. I remember there was an article in one of the local papers that said 'Don't Let Beacon Hill Become Beatnik Hill!'" Jack Powers laughs as he recalls his initial experiences with the Beat scene in the 1960s and 70s and the forming of Stone Soup Poetry.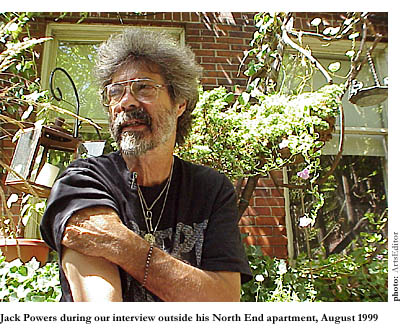 Powers not only initiated and has managed Stone Soup throughout its 28-year history, but was also instrumental in launching the notoriously innovative Beacon Hill Free School in the 1970s, which encouraged people to devise, teach, and participate in educational courses, all at no charge. Stone Soup currently operates in Cambridge at the Zeitgeist Gallery. Every Monday evening hundreds of poems are read before a devoted audience, which ranges from established writers to college freshmen. In addition to the meetings, Stone Soup airs weekly on cable and radio.
As we meet in the Boston Common, we observe Powers assisting Sidewalk Sam, a well-known Boston street artist, with his newest project. Powers is very active in Boston community outreach programs and has developed a respected presence here. When we arrive at his new apartment in the North End, it is immediately apparent that the poetry guru has a detailed story to tell about nearly every object in his vast collection of books, leaflets, and artwork. He has much to say about his experiences as we engage in our discussion.
Where did some of your early inspiration in life come from?
"Stone Soup was started on May 1, 1971. At the time, I had already been involved with the Beacon Hill Free School, the antiwar movement, Columbia Point Food Co-op, and the Boston Food Co-op. I was involved with many issues because growing up as the oldest of six kids, and after being nine years in the Orchard Park Housing Project in Roxbury, I came home one day and found that we were evicted. I mean the furniture was in the streets! We were all tossed to relatives. I sure didn't need Marx and Lenin to tell me about the economic order and the severity of the people on top toward those on the bottom.
One of my early influences was George Orwell. George said once and meant it, and I almost identified with it perfectly—he said that there's not a word that was ever written that wasn't political. I loved Orwell for his honesty, and his use of expository English was as fine as anyone that I've ever read."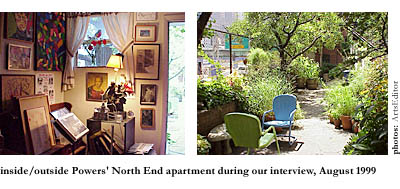 How did you conceive the idea of Stone Soup?
"I said to two friends of mine: let's open this space up and call it something, and open it up for as much freedom of expression as possible. Some great people—Allen Ginsberg, Robert Bly, Lawrence Ferlinghetti—went through there. But I had lived eight years before this space became available, and I was gradually weaving existential thought and kind of distance from issues to involvement. And I said you know what? All the bastards run the world. If we don't do something to take charge, they're gonna run it forever."
And the name?
"So we're sitting around this place saying: what can we name this place that will fit anyone? One of the suggestions was "Cakes and Ales," just because it sounded cute. And I said: well we won't have cakes or ales, so I don't think that's gonna work. Then I remembered this English folk tale. I thought "Stone Soup"—whatever you have to put in the soup is what it is. So, if all you have is rice and lentils, then that's what it is—Stone Soup is rice and lentils. It's providing a small miracle; we need small miracles in our lives. And so I let folk artists, jazz musicians—anyone, and of course the Beacon Hill Free School, use the place. I wanted to bring the "word" to the people. I believe my life was saved by the "word". I want to liberate the "word" of this generation and save it."

What was the scene like in Boston in the 1960s from your perspective, and how has it changed?
"The Beacon Hill community, at the time I moved here 35 years ago, was essentially a kind of burgeoning Greenwich Village or North Beach. There were people scattered around on the back side of the Hill with cheap, cheap rents. The Hill at that time was as close to what you would call a "Bohemia" as Boston had. There was a different kind of a mix and I feel that it was probably the most interesting time in my cultural life—the early days on Beacon Hill. Gradually, economics forced more and more people away so that I ended up living on Beacon Hill by myself. I felt very isolated toward the end. Today, it's not the same as this energized group trying to redefine what poetry might be, what art might be. We had, oh God, what beauty and tenacity, and we made mistakes of course. That was an extraordinarily beautiful time!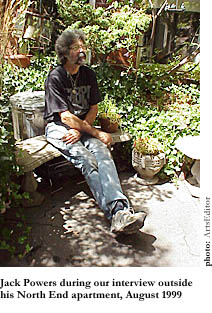 Art flourished in the 60s. Personal signatures on all of it, beautiful individualized statements. This is what art should be, not a replication of the best in what went before. Takeovers and makeovers are becoming our lives. I'm sorry. It's sad. And the real creative people are lost in the shuffle. They don't get the reinforcement they used to have. I didn't care if twenty other clubs opened. Fine, beautiful. The more the better. More people are gonna have an outlet for their expression. And we'll have a more enlightened society."
What have been some developments in Stone Soup over the years?
"We have published over 80 titles in the past twenty-eight years. And not one of them went beyond 500 copies. One of my favorites is Jack of Hearts by Lawrence Ferlenghetti. Steven Fox, Franny Lindsay, and Jon Wieners are others.
We have had a two-hour show on Cambridge Cable for the past 14 years. Amazing feat! If I did nothing else in my life—that depository of direct, honest renderings for two hours week by week by week for 14 years—think of what a historic possibility this is for research 100 years from now. I also have over 2,000 hours of poetry on tape. The tapes will be archived at UMass Boston's Healy Library, open to the public.
And I can't claim total credit. In everything I'm saying to you, I had co-conspirators. Quite frankly, I was like a draft horse, and I pulled the plow, and that's cool. Without the other help, it couldn't have happened."
Any other thoughts?
"This has been my education—poetry. I listen to every goddamn poem. I don't have a college degree, but I've received an education at Stone Soup."
---
Trinity
As simple as
two souls twining
amid the body's
gracious gift…
No, not simple at all,
but terrifying, stupefying,
the realization that
we must be realized here
to be together there.
The Creator appears
in the form of the other,
blessed, beloved,
and what you offer each other
in the nightsheets of sky
with fullest totality, abandon,
sings to the Savior,
graces the collective Being.
We are many, and with this
act of love,
One,
with the Other,
the Self,
Our God,
eternally,
Alleluia!
— Jack Powers (15 March 1998 for Lisanne)

---