A full orchestra that consists of only four parts? This rare notion represents just one of many miracles performed regularly by Miracle Orchestra, a group of (yes, only four) Boston musicians who have succeeded in making a name for themselves throughout the Northeast thanks to a tireless touring schedule and that old-fashioned promotional tool: word of mouth. Now they are ready to take on the rest of the country with the release of their much-anticipated new CD, Forks, Bends & Spoons.
Background
Geoff Scott, Jared Sims, Garrett Sayers, and Bill Carbone began their professional association in 1996 while attending college, though Bill and Geoff were friends from elementary school and made the acquaintance of Garrett during regional jazz competitions in high school. While Bill, Garrett, and Jared studied at the New England Conservatory of Music, Geoff received his education at Berklee College of Music. This academic incubation allowed them the time to hone their individual skills in conjunction with their group skills. In addition to expanding their musical realm within the classroom, it allowed them to learn to play together as a group, which they do today with masterful aptitude and intuition.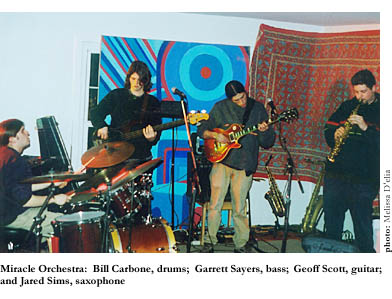 The Sound
The sound of Miracle Orchestra is not easily described. The band fits well, but not too snugly, into a type of popular music whose purveyors are often referred to as "jam bands." This has been applied to groups like the Grateful Dead and Phish, who are known for their organic, improvisational style of playing in addition to having a cult following that adheres, more or less, to a particular lifestyle. While Miracle Orchestra have certainly been steadily building their audience with wowed concertgoers at each show, it's the former concept where the "jam band" term best applies: their style of playing. How do they feel about this classification? "The jam band categorization is good in the sense that it describes the improvisational nature of the music and in the sense that the scene opens up a kind of 'free trade' environment," says Geoff Scott. Jam band scenesters are known for trading tapes and keeping their minds open to new musical ideas. "You should listen to what you like." The best reason to listen to a certain style of music, says Geoff, is if it makes you feel good. The last thing he wants is for their music to be categorized. To be sure, Miracle Orchestra's music is more varied than most associated with the jam band classification, more so even than the music of Medeski Martin & Wood (also Boston-educated and formed), who have the highest profile of the groups on the jazz fringe of the jam band movement. The jazz bent is just one aspect of Miracle Orchestra's sound, but their improvisational style references jazz more often than it does rock.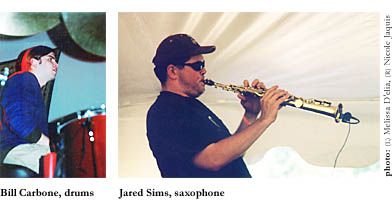 A solid basic jazz/rock bass/guitar/drums configuration sets the stage, but the players simultaneously treat the three as solo instruments to the extent that the horns and vocals (sung lyrics and, most pleasantly surprising, the occasional scat) sometimes seem to take the place of the music's foundation. And while laying into a funk groove, they may suddenly switch to a darker eastern-styled dirge, then to straight-ahead traditional jazz and then maybe a bit of fusion or riff-based hard rock. If it sounds confusing, consider this: they have the chops and the prowess to pull it off.
Their playing is loose (but not sloppy), and has a constantly flowing quality. While their songs are composed, the feel of the band is so natural and spontaneous that there is sufficient 'room to move,' indicative of the empathy between the players. "Our creative process depends a great deal upon love and trust." That love and trust carries over into every aspect of the band, not just performance. Love and trust also enter into the Miracle Orchestra style of composition. Geoff studied songwriting composition at Berklee, yet each member brings his own ideas and even when a song is credited formally to an individual, it's still considered a group arrangement. The band's fertile imagination has thus far led to enough written material to make up at least 2 more albums in addition to the one they are just releasing.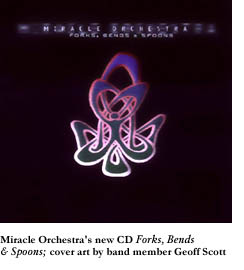 The CD
Whereas Miracle Orchestra's energy comes across in live performance, a quick listen to some of the eleven tracks on their new CD, Forks, Bends & Spoons, reveals a great deal of added sonic texture. Songs like "Canvis" and "This Time" (both over 10 minutes long), show a slightly darker and denser musical vision. The intensely atmospheric jazz meltdown "Eurohaus Destroyer" is short by comparison, at a paltry 6 minutes, but still takes the time to build to its climax. "This Time" incorporates a breezy vocal line amidst a quirky deconstructed funk bed and features an African drum-inspired instrumental break. Then there's the track "Half Asleep," which features spoken word over Miracle Orchestra's harmonic groove, supplied by a friend of the band. The breadth of material, and the sheer amount of music (in excess of 70 minutes worth) on Forks, Bends & Spoons affords Miracle Orchestra their most adventurous and exciting disc yet.
And it may be that nobody is more excited than the band. Forks, Bends & Spoons represents a true labor of love for Miracle Orchestra. The album was recorded over several months in the band's family room. Self-recording allowed them a great deal of convenience, not the least of which being the time to work through the songs at their own pace and, more specifically, the means to record in bits and pieces whenever their busy tour schedule allowed. Compared to two previous CDs, both self-released and distributed at shows or through the Web site and mailing list, Geoff Scott says that Forks, Bends & Spoons best represents "where the band has come from and where we're going to." If music can be seen as a journey, then Forks, Bends & Spoons can be seen as a travelogue, and it's not surprising that the album's name was conceived on the road. The play on words in the title also happens to reference one of Geoff's favorite pastimes: eating. A connoisseur of all types of food, Geoff admits that food could even be considered one of the many themes on the album, in addition to friendship, discovery, illumination, and…well, "It's about everything. It's about the road of life."
The new CD also has the distinction of featuring a band member's artwork. Geoff Scott feels that an album package should ideally "represent the music from the inside out." After bad experiences with previous designers, Geoff decided that the best way for the band to represent the music inside was for them to create the images on the outside also. Geoff has been involved in the visual arts, including drawing, painting, and sculpting, longer than he has been involved with music. It seemed an obvious extension of the aesthetic to incorporate his oil paintings throughout the CD package and, most importantly, on the cover. You've heard the expression—and perhaps it would still be best not to judge this 'book' solely by its cover, since the music is its reason for being, but at the very least Geoff's art brings a fuller, more personal view for the listener.
The Tour
A recent headlining show at Cambridge's infamous Middle East club, and another at the House of Blues, found the band in peak form, basking in the glow of adoring fans after a few weeks playing elsewhere, including a 5-week residency at New York's legendary Knitting Factory. Then before long it was back out onto the road, heading down to Pennsylvania, Virginia, and West Virginia. Now, Miracle Orchestra head west, where they will play in support of their new CD at venues throughout Ohio, Illinois, Colorado, Washington, and California—to name a few. "We're looking forward to getting back out there," says Geoff Scott. They've played several parts of the country already, but having the new CD in tow will be the focus. And yes, they will have the CD to sell on the road at shows preceding the October 24th release date. As much fun as the band had recording and preparing the CD, the live show is what it's all about. "If it feels good, keep doing it," is somewhat of a motto for Geoff, who adds that "the sensation of playing live music is like medicine." After making house calls across the U.S., these rock 'n' roll doctors will return homeward the week before Thanksgiving for official CD release parties in Boston and in New York City.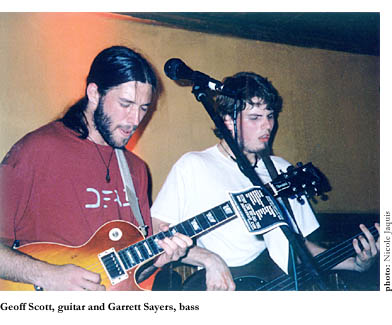 The Glory and the Groove
When asked what the band's inspirations are, Geoff Scott gives me a varied list: friends, family, nature, and art; but what comes to the fore as the band's primary inspiration? Each other. For each member of Miracle Orchestra, the band is very much a full-time occupation. Besides the aid of a booking agent, a road assistant, and a Web designer (each of whom are really just part of the band's extended family of friends), the band does it all. Self-management has afforded them the luxury of making their own future, and with the addition of label support from Grapeshot in support of Forks, Bends & Spoons, their future seems bright indeed. Still, it seems their motivation is less glory and more directly focused on the groove. As many a professional musician is known to express, Miracle Orchestra play music because they enjoy playing. And more than that, they enjoy playing together. "It's a privilege to play with musicians of such caliber," says Geoff Scott; "It brings new surprises every night." New surprises and new miracles.