The web site is called sloanmusic.com, presumably so that the Canadian band isn't confused with the like-named manufacturer of plumbing materials. But the distinction of that domain name helps to point out that their music is individual enough to have its own descriptive brand name: Sloan Music. A music all their own? When all of today's rock and pop music seems so derivative? The difference with Sloan is that, although they may tread where the Beatles and Stones have tread before, they seem truly, innocently, and unabashedly of another time and place that is out of joint with a world that should consider them rock heroes. "I put a quarter in the record machine…But it was full of records I'd never seen/The times change and it's so beyond me;" so goes a Sloan lyric that pretty well sums up their frustrated cultural displacement. And yet, they sure have been making the rounds—and have been doing so for ten years.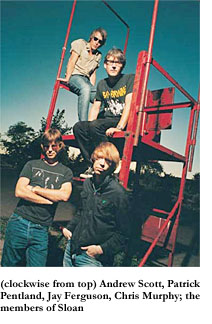 When Sloan finished up their Fall 2001 North American tour with a stop at The Middle East Club in Cambridge in November, the band members pointed out that some of the audience members looked a little familiar—they had in fact seen them at the previous evening's show at the Bowery Ballroom in New York City. Another group of fervent fans presented singer Chris Murphy with a gift before the band left the stage, only to return following the crowd's unison chant of "SLOOWW-OWWN." And yet, after all of this hoopla, the band still had to ask the audience members if the distribution had been good enough for their latest album, Pretty Together, to be found readily in local stores. Sloan's concerts are attended by a small enough minority in the U.S. to allow for plenty of the band's sing-along goofiness (often inviting fans onstage to help out with the vocals), but in Canada they have achieved great success, unbound by the shackles of the usual commercial pop music strata that are prevalent in the States.
The four-piece formed in Halifax during the alternative rock boom of the early nineties, and the sound of their first few releases relied more heavily on the contemporary guitar-washed "shoegazing" sounds epitomized by college radio favorites My Bloody Valentine, with an acute, Beatlesque power pop sensibility seething beneath the surface. Though their debut, Smeared, on Geffen Records, revealed a band that had perhaps too quickly been given a record contract before fully refining their style, it all seemed to come together on their second release, Twice Removed, which Spin magazine hailed "The Best Album You Never Heard" in 1994. After a brief hiatus that came about for various reasons, including lack of major record label support, Sloan returned unscathed in 1996 with a more accessible approach that lovingly echoed classic rock and pop tunes without re-hashing them. Embracing a newfound stardom in their home country, coupled with an increasingly ironic rockist attitude, Sloan began to experiment on record with many familiar classic rock formulas, including the loosely-formed concept album and the double live album, both ubiquitous conventions of the '70s, but approached their rock attic-digging with respectful reverence rather than parody.
Despite the differences between "old" and "new" Sloan (which ironically may best be distinguished as "modern" and "retro," respectively), three significant factors have remained the same. First, Sloan are unique in the rock world in their solidarity. They have retained the same lineup for their entire ten-year existence: Andrew Scott (drums), Chris Murphy (bass, vocals), Patrick Pentland (guitar, vocals), and Jay Ferguson (guitar, vocals). Second, and also unique, is the band's sense of democracy—each of the four members contributes his own songs and shares in the limelight, even when it requires some sloppy rotation of instruments onstage. The third constant is the clever, playful songwriting that sets them apart from their musical peers.
From the infectious and absurdly literate 1992 single "Underwhelmed" to the bubbly 1999 track "Delivering Maybes," Sloan songs have always taken the craft of wordplay to a gloriously delicate extreme. Littered with puns, subtle jokes, and pop culture references, Sloan Music combines the fun of low-browed rock 'n' roll with the intelligence of high art (two members of Sloan met in art school; the others studied English and History). Few bands effectively utilize words like "onomatopoeia," let alone "cajole." They are experts at effortlessly twisting language, and in Sloan's hands an idiom such as "I want to be with you again" becomes something entirely different simply with an additional "…and again" tacked on. When the juxtaposition of regular words isn't sufficient, Sloan, Bowie-like, make up phrases of their own, such as "sizzle teen," that seem as if they always should have existed. Fun is the focus, so much so that their jests can become almost too much to ingest at times, and was in danger of overshadowing their talent until the 1999 album Between the Bridges. The decision on Bridges to keep the band's trademark quirkiness to a minimum and concentrate on some more straightforward songwriting resulted in a stunning and maturely crafted work. A desire to score music for an actual or imaginary film seems to have led them to create, as a compromise, the filmic Between the Bridges, which consists of an ambitious song cycle with no breaks between the tracks, lending the album an almost stream-of-consciousness feel. (Sloan's music videos have also always been clever, particularly the clip for "The Good In Everyone," a homage to the Dennis Hopper film Easy Rider.)
After disillusion with various major labels, the last few albums have been on Sloan's own record label, Murderecords. Self-releasing albums has proven viable for many independent artists in the last decade, and Sloan have found their greatest popularity since the band wrestled control of their own recordings, merchandising, and just about everything else that they handle themselves. Despite the stress of the extra work, having that creative control has definitely been a boon to Sloan in the handling of their presentation and album artwork, and pokes fun at their own uniformity of image. (A few of the aforementioned videos purport the band as satiric tools of an imagined fascist state that is as far from Canada as one can imagine.)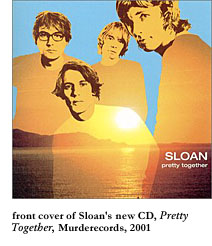 Sloan's latest release, Pretty Together (which continues their string of album titles with double meanings and puns), may be their strongest and most balanced release to date, where songs like the uniquely unassuming "I Love a Long Goodbye" go hand-in-hand with the unruly rock 'n' roll revivalism of "Pick It Up and Dial It." The mood shifts from the wistfully reflective "The Life of a Working Girl" ("She's young at heart but no teenager/Early thirties I would wager/I came along a little later/So I could merely carbon date her") to the unapologetic "The Other Man" ("I know you've got a man in the picture but it hasn't stopped me yet/We've all been in one situation or another we regret"). As much as the latter song owes to The Who's "Behind Blue Eyes," "If It Feels Good Do It" owes to John Lennon's "Whatever Gets You Thru the Night." But anytime Sloan recycle it seems fresh because of the energy and creativity they invest.
In other places, the '70s-styled songwriting has evolved and given way to more of an '80s-styled, slicker-sounding production. The band has come a long way from the one-word song titles that were in vogue when they began writing and performing, and that is proven in songs whose titles may be more cumbersome, like "Never Seeing the Ground for the Sky," but are more cohesive in tone and color. Several of the songs on Pretty Together refer to dreams, with lines that question the pastime of dreaming, like "Dreaming of you all day hardly seems appropriate" and "All of this time I've dreamed about it…All of this time I'm wasting on it," but the closing number reassures us that "Your Dreams Have Come True." The aforementioned "Never Seeing the Ground for the Sky" pleads "Look in my eyes/And try to tell me you're seeing another," then follows it up with a song called "It's in Your Eyes." Conceptual reiteration abounds, with both of the songs penned by drummer Andrew Scott on Pretty Together making reference to traveling and to the Orient (where, coincidentally, Sloan find themselves mid-January on a Japanese tour). Like the previous effort, Between the Bridges, this newest album feels like an intentionally ordered story that grows or somehow thematically transports the listener from "point A" to "point B."
Although getting from here to there has clearly defined a new direction for the band, Sloan Music is still more about the journey than the destination. "At the heart of the travelling band/You have to understand," sang guitarist Patrick Pentland onstage last November at the final stop of that particular North American road trip, "There's a driving need to hit the yellow line" (from the crowd-pleasing rave-up "Money City Maniacs"). As long as Sloan continue to hit that line, but not cross over it and veer out of control, they'll be embodying what Rock Music (and Sloan Music) is all about—keeping a wayward used automobile on the road until the inevitable rock 'n' roll crash and burn. (After all, Neil Young did advise that "it's better to burn out than to fade away.") And as long as they continue to deliver the goods with such finesse, they'll be filling a void to which virtually no other rock or pop bands today can lay claim.