"The start of a painting is both my favorite part and the most challenging part of the process," he says. "You always want to be moving forward and finding what direction the exploration is going in, so the beginning is exciting. Some people are really afraid of a blank canvas—petrified of it—but I actually find it invigorating." — Andrew Fish
The small yet deceivingly spacious studio of painter Andrew Fish is housed in an old red-brick building above a foam-cutting company, part of the Vernon Street Studios in Somerville, which houses several artist studios. A blue-velvet upholstered couch that looks like it was jettisoned from a tasteful high society home years ago fills the left wall beside a vintage flatbed printing press decorated with scraps of paper and old ink. A desk sits in the opposite corner of the room, barely visible beneath the tubes of paint, buckets of brushes, and dried remnants of carefully mixed colors that cover its surface. The drawers of the desk and several surrounding file cabinets are full of pallets, more paint, and countless handmade prints, each capturing a small moment with a burst of pigments and light born from oil paint. Laying against almost every other flat surface in the studio are massive linen canvases, some finished and some works in progress, brought to life by bright colors and textures and minute details all tenderly added by the hand of the artist whom they mean the most to.
When painting, Andrew Fish combines his passions for light, technology, and paint to create abstractions of his own photographs on canvas with oil paints and a variety of textural tools (including but not limited to: sponges, squeegees, rollers or brayers, straightedges, palette knives and rags—all of which can be found in the studio in every size imaginable.)
Each piece is created through an extended process that Fish has refined throughout his years in the studio. That process begins with the taking of photographs in the urban settings that Fish encounters in his everyday life. He walks around Somerville, Cambridge and other surrounding neighborhoods taking photos of anything that captures his eye, from buildings with interesting structure and bridges that play with the sunlight to people walking past one another and cars parked on the streets.
After spending hours finding interesting scenes to capture, he sorts through the day's images, as well as some from days past, and chooses the most interesting ones to transfer to his iPad and edit. Use of technology allows him to bring out the aspects of the photo that he thinks will help create the most dynamic addition to a canvas that is thus far only decorated with his colorful brushstrokes and delicate patterns. Much like a cartoonist edits his drawings to make the lines dark enough for print, Fish edits the contrast and shadows of his images to bring out their most interesting qualities before transferring the final image onto a transparency. A seemingly antique overhead projector—of the type previously found in classroom settings—then transports the image onto whichever colorful canvas Fish has prepared and he puts his hands and tools to work, adding color, detail and light to the painting as he sees fit based on the lines and shadows in the selected photograph. The most recent canvases that Fish has been painting on are larger-than-life, much taller and wider than the artist himself. The size of the work gives viewers a chance to feel as though they're looking through a window to another world that parallels their own.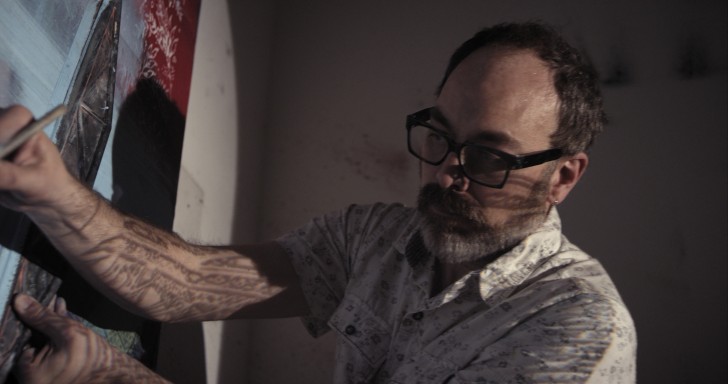 The way that Fish makes large, sweeping brushstrokes across a canvas is a work of art in itself. Watching him turn a blank canvas into one full of life leaves anyone watching him at work eagerly awaiting the next giant addition of color, whether it be applied with a textured piece of rubber or the bristles of a paintbrush the size of a large dinner plate. Perhaps the most fascinating aspect of Fish's paintings is the pervasive presence of layers, a detail that one only comes to notice and appreciate over time. Looking at a finished painting, a viewer might simply be attracted to a colorful image that looks a little like a time and place they've seen before in their own lives. Someone looking a bit deeper will fall in love with the innumerable layers of color, paint, and emotion that underpin the image that eventually manifests itself in a final piece.
While there isn't ever a single moment in which a painting is "finished," Fish has come to recognize a certain feeling that accompanies a piece nearing its end: "At some point I'll just feel that I don't know what to do next with it, and I take that as a sign that I need to step back and let it exist the way it is," he says. "If it doesn't call me back in to make other marks, then it might be done. The time between stepping back and re-working a painting could be a matter of days, months, or a year. If it holds its own without needing more attention, it's done. Occasionally I'll look back on a painting that I thought was done and see missed opportunities. But I think that's true for all painters."
Beginning last month and through the middle of October, Fish will have plenty of opportunity to practice being confident and happy with his art in front of others including the Spotlight Gallery in Lesley University's Lunder Art Center, the French Cultural Center in Boston, and even the Addison/Ripley Gallery of Fine Art in Washington DC. The nation's capital show will not be the first time that Andrew Fish is displaying his artworks outside of the Boston area.
Fish's practice at his current location began in 2011 and since then his work has been featured in several galleries and art exhibitions, including the Sloane Merrill Gallery and the Atlantic Works Gallery in Boston. Of having his paintings shown in public, he says, "It's a vulnerable place. You have to tap into a confidence and a bit of indifference. I've gotten better at not giving a shit."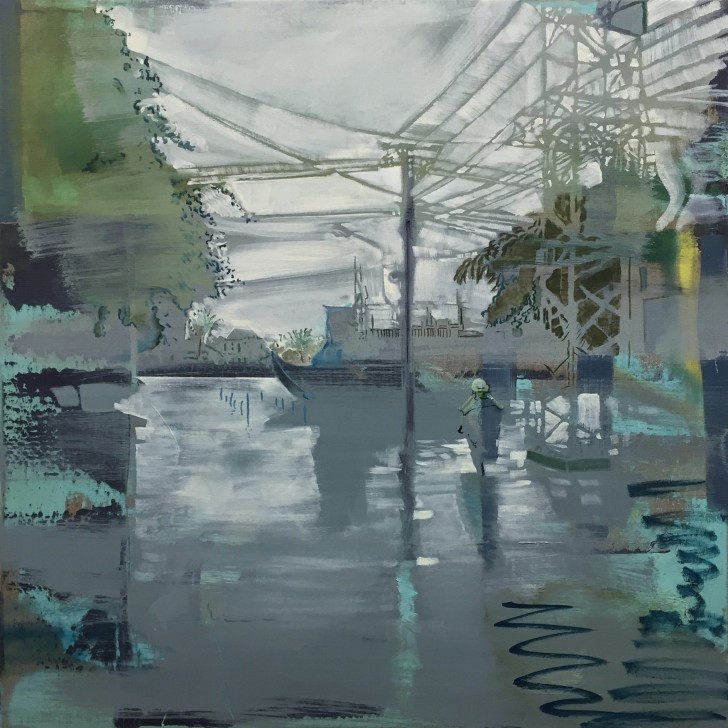 As his career has progressed, his perspective on creating art has as well. "I used to be more idealistic about the purity of art, but also for me there's a pragmatism I've learned over the years. I want this to be my job, and I treat it with discipline and seriousness, so I'm much more rigorous about my approach," he explains.
In addition to the more established and well-known influences of Fish's art, he is inspired by other painters and artists, both at Vernon Street Studios and beyond. "My fellow artists have been integral to my development as a painter," he points out. "I have many friends that I've come to rely on for honest critique, creative guidance, and intellectual discourse. My community is spread across New York, DC, Vermont, and Boston, but some of the artists who are part of my local community are Joel Janowitz, Catherine Kehoe, Clint Baclawski, Wilhelm Neusser, Lucy Kim, Nathan Miner, and Anne Lilly."
A native of Burlington, Vermont, Fish attributes his early interest in art to a love for the comics section of the newspaper and to watching his parents run a print shop, where his father also made silk-screen posters for both a nearby theater company and local maple sugaring companies. Thinking back on his childhood exposure to the print shop, Fish notes, "I didn't realize how cool it was until I was much older. The making of art was definitely set early on, but I didn't really think it was something I could do until early in high school when I got interested in Impressionists and Andy Warhol and that sort of thing."
He first studied art history at Middlebury College in Vermont in the late 1980's before attending the School of Visual Arts in New York City. Before arriving at the world he lives today, Fish earned perhaps his most entertaining job as the manager of the design services department at the Jim Hensen Company, home of the Muppets. "Once we were in this conference room and Frank Oz came to meet with our group of designers. He was telling us about his new movie and then all of a sudden he told us he'd brought along a friend and pulled out Grover," Fish says with laughter. "I swear, I've never seen adults turn into children so fast. We were all twelve years old again just hanging out with Grover—[we] completely forgot Frank Oz was there. It was amazing!"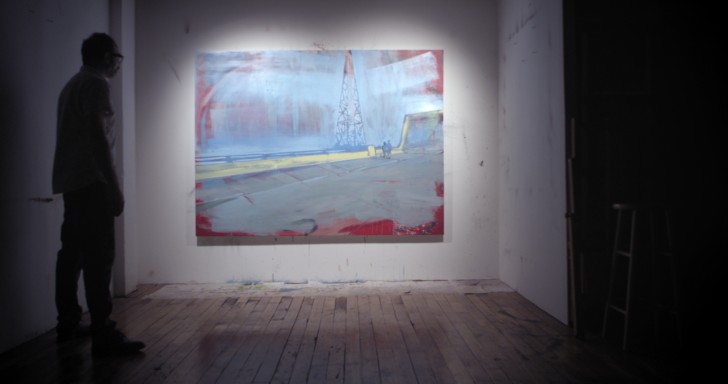 After his stint with the Muppets, Fish made his first professional foray into the classroom as a tech specialist in schools, where he repaired computers and worked on curriculum integration. "I got involved with tech in education when it was really picking up," says Fish. Now he spends his time in classrooms fulfilling a different role. Over the years, Fish has taught classes on various subjects and skills at five different institutions including Vermont Governor's Institute on the Arts and the Massachusetts College of Art and Design. Teaching allows him to share what he has learned throughout his career with a new generation of creators. "It feels good to pass [my knowledge] on to other people. There's always a different reimagining of those lessons and they become their own, and that's something that's so beautiful about educating," he says. His time in front of students has helped him not only to give back, but also to become a better communicator. "As far as my own art, teaching helps me solidify my own ideas because I have to be able to articulate that when I'm sharing my process with other people."
It may seem to some that work as an artist and work as a technology specialist in classrooms have no bearing on one another, but Fish disagrees. "There's definitely a thread that's run through my life and now also through my artwork," he notes. Fish has a deep understanding of what technology means for society and for the individuals participating in it. "I've done these jobs that I wasn't totally into, but then the technology work started to inform the painting I was doing, because tech is integral to people's lives."
Much like his paintings, Andrew Fish's life thus far has been composed of many layers enhanced by the versatility of his skills and his interests. Currently, Fish enjoys a sense of confidence and security within his art. "It feels good just to be myself. I'm at a point where my painting is my priority and I'm able to focus a lot of time on it."
(Article quotes are from our ArtsEditor interview and film piece.)