It is immediately apparent from Michael Moran's intense enthusiasm and relentless energy that he is the perfect man to found and manage a community arts center. As President of the Center for Arts in Natick (TCAN), Moran has been the visionary behind a project that organizes nearly 250 performance events each year.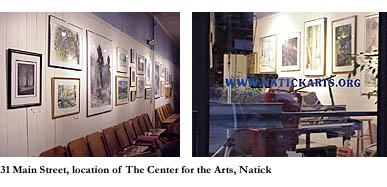 Moran made the first phone call about TCAN on Jan 2, 1997. He had been involved in music all his life, and had been running The Uncommon Coffeehouse in Framingham for several years. His vision was to create a place where a variety of talent could perform, and one where the town could be directly involved in the creative process.
"I knew that one day I wasn't going to wake up, and I wouldn't have done what I really want to do. And a lot of people never, first of all, have the guts, and second never have the opportunity — or maybe the opportunity gives you the guts – to do this," Moran states. He's a full-time volunteer, working 15 hours a day, and having a wonderful time. All of the others involved are volunteers – over 400 people help out with the project.
TCAN had a board formed in four months at its outset. Moran claims that initially you only needed to be able to "breathe on a mirror and write your name on it" to become a board member. Now there is much expertise on TCAN's board, including prominent individuals from arts organizations, government, business, and education.
There was certainly nothing like TCAN in Natick when it opened two and a half years ago. Today it has 600 members, who provide much of the Center's funding, along with commissions on the sale of artwork, admissions to events, and gifts from individuals and businesses. However, Moran quotes folk singer Utah Phillips to explain the level of sacrifice involved, "You can make a million dollars in folk music – if you just start with two million."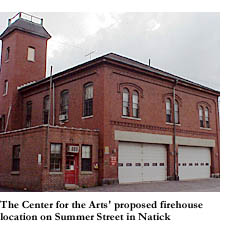 Funding is paramount to TCAN right now. Its goal is to secure the sale of the old firehouse in the center of town for use as its new facility. TCAN put $30,000 down, $15,000 of which was received from the state in the form of a preservation grant to figure out how the place would be built out. TCAN needs to raise $800,000 in pledges by June of next year for Phase I development. Moran says it costs about twice the amount of money to renovate an old structure than it would be to develop a newer space, because the building's historic character needs to be revived. In order to secure the firehouse with very little capital, TCAN had to get a 2/3 vote three times from the town to qualify for an exemption to the normal bidding process.
Moran says that he had already known that the Center would outgrow its current space on Main Street before he even started, but that the Center had to show the town "a piece of the pie" before anything big could happen. "It's easier to sell a dream than to sell reality," he says.
Kate Cardamone got involved in TCAN during its initial meetings back in 1997. She is a local artist and landscape designer, working part time for the town. Cardamone has taught landscape design at Radcliffe Seminars for the past decade. She's been chairperson of visual arts at TCAN since last spring. She is quick to point out that the new space will not possess the intimacy of the "storefront", a feeling of many different things happening at once all around. The loss of energy that will take place will be hard to replicate. TCAN feels prepared for this challenge, though. Moran references an art center in Michigan that moved into a larger space, and it fell flat on its face. Knowing the details of this, he is certain that TCAN can avoid that mistake.
The limitations of TCAN's current 80-seat space sometimes interfere with others on the street. For example, during the 'Rock on Main Street' event on Sundays, Moran says, "We get high school bands in here that have maybe never played before anywhere except in the cellar. They roll in these monstrous machines, these big column speakers. The blow us right out! And it gets so loud that the shoe store guy next door, who is a wonderful guy, said that his shoes rattle off the wall during the event. We had to make an agreement with him that we wouldn't start until 4 after he goes home."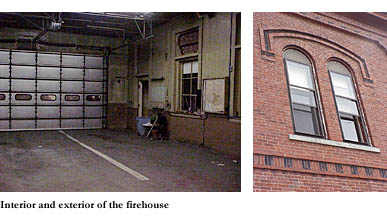 There are differing opinions about how the visual arts will be handled in the new building. Cardamone explains how some people feel that the level of work shown should be raised to include only established artists. Cardamone hopes for a combination of established art and young, unknown artists from the local community. Moran feels strongly about the importance of having community art on the walls; it gives local artists a "prize" to reach for.
Cardamone also wants to have a gallery while maintaining the performance space as an exhibition location. Moran and Cardamone disagree slightly over the mix of visual art with the performances. Cardamone feels it is one of TCAN's strengths — that you can listen to a concert and view art at the same time. Moran, however, believes that people who attend the concerts really don't pay attention to the visual art that surrounds the room on the walls. As a way of getting people more involved, he developed an activity where phony cash is given to people to "spend" on any paintings they like. The goal is to get people talking about the art, and he claims that it has been enormously successful.
TCAN holds roughly one visual art show a month. A recent exhibition displayed paintings centered around the subject of trees. Other shows feature the work of fabric artists, photographers, and sculptors. Sometimes it's a theme, sometimes a particular group of artists that drives the exhibition.
Music events are a big attraction at TCAN. On open mike nights, one may see high school students, graduates, or college instructors come to play. Over the last two years, Moran says he has been introduced to professors at the Berklee School of Music and the New England Conservatory, and this has substantially raised the level of performer during Jazz events. On Sunday once a month, TCAN holds "Bach, Beethoven, and Bagels", which is a classical music breakfast event.
And in addition to concerts, events such as poetry readings, model drawing, storytelling, and even Shakespeare are held – currently all in the same one room. One of Moran's favorite quotes is, "The arts are a rich form of communication which allow us to meet, understand, and accept each other." This mission is certainly achieved in the tight quarters at 31 Main Street.
Moran's vision of a more diverse and engaging experience for visitors includes dreams of creating a system where CDs can be burnt on the spot during a performance and sold to attendees as they walk out the door. He would also like to continue developing a "virtual museum" around the town, where local artists' work can be accessed in a directory and local businesses can choose art to hang in their spaces.
As we take a tour of the old firehouse, dusty and cluttered, Moran launches on a long-winded description of the construction plans, which include a recording studio, a sculpture garden, a dedicated gallery space, and an outdoor patio area for use during concert intermissions. In addition, a 300-seat auditorium will allow a higher level of talent to be booked. The possibilities are still wide open. Moran explains, "This building is about 12,000 square feet. If we can do what we currently do in 1,200 square feet, imagine what we can do here in 12,000."