"Welcome to our humble madhouse, doctor. I trust you'll find yourself at home."—Marquis de Sade (Geoffrey Rush) to Dr. Royer-Collard (Michael Caine).
Quills is the story of the infamous Marquis de Sade, and how his confinement in an insane asylum could not suppress his imagination and perverse wit. Philip Kaufman directs Doug Wright's script, adapted from his play.
Geoffrey Rush plays Sade, imprisoned in the Charenton Asylum during the course of the film, which takes place during the early years of the 19th Century. Despite his confinement, he lives more than comfortably, a luxury afforded by the exceedingly accommodating priest Abbé Coulmier (Joaquin Phoenix). Coulmier hopes to heal the controversial writer by letting him put his dark thoughts on paper, rather than acting them out. Also helping Sade fulfill his creative impulses is asylum chambermaid Madeleine (Kate Winslet), who smuggles out his writings with the wash. Thanks to a mysterious courier, Sade gets published even while imprisoned. His writing—in this case, the novel Justine—reaches all over France, even as far as Napoleon himself. The Emperor decides not to have Sade shot, as was his first impulse, but rather to have him healed by the country's most thorough physician, Dr. Royer-Collard (Michael Caine). When the doctor arrives at Charenton, it appears that he will have the last word in Sade's treatment, but his plans are frustrated when the star patient uses material from the doctor's private life as material for ridicule and erotica. The power struggle in the institution ends up affecting the lives of these characters, their families, and even several colorful inmates who adore the liberating nature of Sade's despised prose.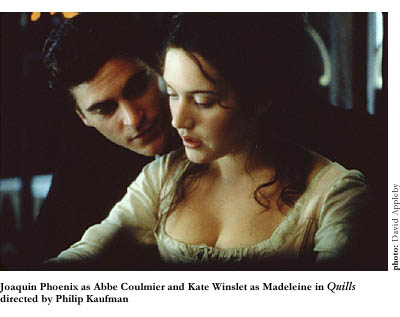 Philip Kaufman, director of Henry and June and Unbearable Lightness of Being, is no stranger to erotically themed dramas. He is able to marry the obscene to the beautiful throughout the film, beginning with the image of children singing during the execution of a woman by guillotine. This use of the unlikely or out-of-place choir appears again, this time made up of inmates at the asylum. The inmates aren't limited to just song; Coulmier attempts to rehabilitate the patients by confining their illnesses to art. He asks the pyromaniac Dauphin, "It's far better to paint fires than to set them, isn't it?" Dauphin has to think it over, but he finally agrees. This kind of dark humor appears throughout the film. For example, in the extremist Dr. Royer-Collard's hospital, one of the patients, undergoing torturous confinement, tells the passing doctor, "I'm much better now," right before he's gagged again. It's like something right out of Monty Python.
A major plot in Quills involves Sade's flirtation and manipulation of Madeleine. This relationship evokes comparison to another dark romance, that between Hannibal Lecter and Clarice Starling in Silence of the Lambs. Obviously, Madeleine is much more naïve, a simple chambermaid, not an FBI agent; and Sade, while malicious and guilty of many horrors, never actually ate anybody's liver, as far as history remembers. Still, the beginnings of seduction are obvious, and the first half of the film, until Dr. Royer-Collard takes the initiative to limit Sade's interaction with the staff, comes off as a very off-beat love story, much as the cover art of the disc implies.
Since Fox's entry into the DVD market in 1998, it has tried many different packaging concepts. Never content with any kind of standard, their cases include the double-alpha "fattie" case and custom-made cardboard cases. Quills, fortunately, comes in a standard Amaray single-disc keepcase, easily replaced in case of damage.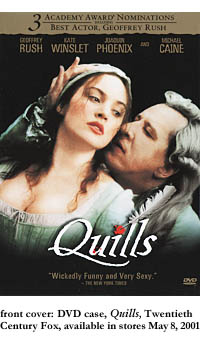 The cover art displays Rush and Winslet close together, he whispering in her ear…or is he kissing her? On the case's spine, if examined closely, can be read the word "Vice" almost as a watermark alongside the title. Inside the case is a flimsy booklet, if it can be called that. The cover of the insert shows Rush wearing Sade's suit of writing, a white costume on which he has written after being deprived of paper. Scattered on the cover with the photo are words such as "voyeur," "madman," and "sadist." Aside from adjectives, the only other writing in the booklet is made up of the 20 chapter headings. I would be more upset with this featherweight insert, but clearly the bulk of additional material was put on the disc instead.
The menu is a very beautiful, elegant animation of red. Is it ink? Wine? Blood? Diluting in water opens up the main menu, followed by audio clips of dialogue in the background. Thankfully, the chapter selection menu presents the chapters with still screen shots, not miniature video clips of each scene, which obviously would have the potential to contain spoilers, like in Warner's DVD of The Devil's Advocate. Go ahead and use the Language Selections menu, because that is where the audio setup choices are. Sure, you want to watch the film in English, but you can choose between 5.1, English Dolby Surround, and French Dolby Surround. It's fitting that you can hear the movie translated into French, considering all the characters are French, after all. Unfortunately though, you cannot choose French subtitles, only English (which I recommend, considering how softly everybody speaks) and Spanish. If you prefer Spanish subtitles, the film's trailer is included on the disc, with or without Spanish subtitles.
I selected 5.1 English audio, but heard almost no rear surround activity. The score by Stephen Warbeck certainly enriched the experience, and Fox must have agreed. One of the special features is a promo for the film's soundtrack, although the piece they chose to promote the CD sounds like something out of Psycho. Perhaps it's fitting, after all. As I said before, English subtitles were useful, especially due to the disproportionate amount of whispering and muttering in this film. Considering it started as a stage play, I wonder why the performers do not project very much. The subtitles also help those of us who have difficulty keeping track of character names, or at least their spellings.
As for the video, no complaints here—a solid 1.85:1 Anamorphic presentation, with every inch of the frame used for the elaborate sets or meticulously costumed extras. Kudos to Fox for finally establishing a 16:9-enhanced standard for its widescreen presentations, a choice I wish they had made before The Abyss Special Edition.
Playwright/screenwriter Doug Wright lends the commentary for this disc, and it's obvious he came prepared. This is not one of those commentary tracks where the speaker wings it while watching the movie with us, chiming in with "hey, yeah, I forgot about that part!" No, Wright has notes with him obviously, because he makes direct quotations of specific reviews and opinions of the material throughout the running time. However, since he limits himself to his prepared material, there are many stretches where he says nothing at all, finally broken with profound insight and humor. One anecdote he tells involves Michael Caine's last day on the set. Wright approached him and thanked him for being part of his first movie, to which Caine replied, "Thank you for being part of my 110th!"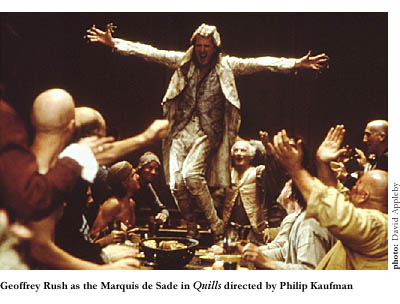 The rest of the special features are comprised of three short featurettes: "Marquis on the Marquee," "Creating Charenton," and "Dressing the Part." These all could have been much longer, considering we didn't get any commentary by Kaufman, or even a full-length "making-of" segment, as you might find on other discs. One part I truly enjoyed in the third segment, about the Oscar-nominated costume design, is where costumer Jacqueline West describes the black-clad Royer-Collard in comparison to Darth Vader. Actually, between these short pieces, and a fact-to-film explanation of the characters from history, I was reminded of the Collector's Edition version of Shakespeare in Love (also starring Rush, for which he was also nominated for an Academy Award).
Overall, Quills is an erotic, exotic peek inside an early 19th Century insane asylum, a location I haven't seen on film since 1984's Amadeus. Philip Kaufman takes us into the darkest recesses of an already creepy mind, and the DVD lets us go even further, thanks to a well-prepared commentary track and informative, if brief, "making-of" segments.