The following article reflects the abbreviated online version of our magazine that was produced in conjunction with a monthly print issue.
---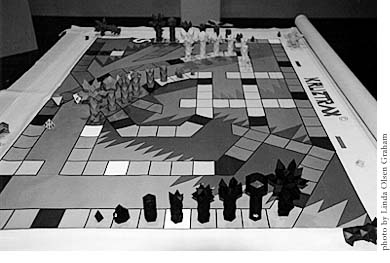 Haynes Ownby was the only abstract painter in Dallas in 1952 when, fresh out of the University and longing for a community of like-minded artists, he left Texas for New York City. He studied four years with Hans Hofmann in New York and Provincetown, then moved to Taos. In Taos, Ownby was exposed to the 12-tone system of composer Arnold Schoenberg, giving him the idea to use a grid system in his own work.
Kruztrax is a game of both chance and strategy. According to Ownby, a good set of instructions would fill four pages. Dice are incorporated. Players move their pieces along tracks and, on certain occasions, between tracks. There are eight ranks of pieces and three sets of dice included in the strategy of the game.