Music and film have maintained an inseparable bond since the moving picture's earliest beginnings, when musical accompaniment was used to enhance an audience's cinema experience. The introduction of sound, and the soundtrack, only strengthened music's importance to film, to the point where many audiences take background music for granted altogether, and only notice soundtrack music in its absence. When live music now accompanies a film on rare occasion, it feels for the audience like a new experience and adds a heightened level of drama to the viewing. One such experience occurred in February, when, to coincide with the popular multimedia exhibit Dangerous Curves: The Art of the Guitar, Boston's Museum of Fine Arts provided a film series called Guitars and Film. While much of the series consisted of an uninspired selection of movies in the "rockumentary" vein, the highlight was Tom Verlaine: Music for Film, an event which combined live performance with film.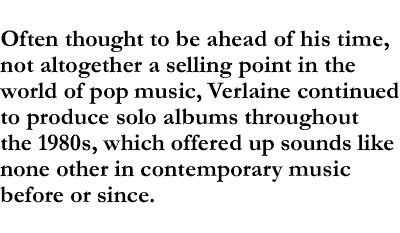 Tom Verlaine's band Television found itself at the heart of the thriving punk and new wave scene in New York City in the 1970s, but disbanded in 1978 just as friends Blondie and Patti Smith were becoming household names. As integral as Verlaine and the band were to the development of what became known as alternative rock, their recordings were greatly overlooked in their home country and found greater success in the United Kingdom, where London transplant Verlaine is still revered (Television was the subject of a recent feature in the British rock magazine Mojo). The band's debut LP, Marquee Moon, was adored by critics and has through the years been consistently cited as a chief influence for musicians of all styles and backgrounds. Marquee Moon appears frequently on lists of "best albums you've never heard," but the LP's greatest coup to date was its surprise inclusion on music television network VH1's "100 Greatest Albums of Rock & Roll," broadcast last December. Marquee Moon came in at number 83, an astonishing achievement for a commercial underdog. The ranking is especially impressive when one takes into account the magnitude of the rock canon, which now covers more than forty-five years, and is further proof that Television's legacy has only continued to grow in stature.
Throughout Verlaine's career he has maintained his flair for the avant garde in his music. Often thought to be ahead of his time (or "from another planet," as once decreed by a record label executive's early rejection of Television), not altogether a selling point in the world of pop music, Verlaine continued to produce solo albums throughout the 1980s, which offered up sounds like none other in contemporary music before or since. Releases such as 1981's uniquely evocative Dreamtime furthered his innovative techniques, while simultaneously bolstering his cult status. Verlaine has not released a new recording in almost ten years, but somehow it almost makes sense that he should step back and wait for the rest of the world to catch up.

Filmic music is not new to Verlaine (and the combination of sounds and pictures may just be a fitting move from a man who named his band Television). A score for the 1994 film Love and a .45 was his first scored feature, but the film's lack of success allowed for few to hear it. A better place to look for the genesis of his film music is 1992, when many music critics were taken by surprise and even confused when Tom Verlaine issued an album of instrumentals on Rykodisc. Warm and Cool featured a laid-back late night jazz combo feel that was like nothing else Verlaine had ever released. The atmospheric, moody record showed the first glimpse of the motion picture soundtrack territory into which Verlaine was soon to tread. Unfortunately, the ground broken by Warm and Cool was overshadowed by a brief Television reunion, which, although successful, set back this challenging new direction for Tom Verlaine.
Part of Television's appeal was the symbiotic relationship between Verlaine and second guitarist Richard Lloyd, whose counterpoint chiefly defined the band's style. It took several years after Television's breakup for Verlaine to find a suitable replacement in Jimmy Ripp. After working together for many years, Verlaine and Ripp have refined an interplay worthy of the finest jazz musicians, and the intuition in their playing was exhibited clearly at the Museum of Fine Arts, Boston on February 16, when they provided live accompaniment to a series of vintage short films in the museum's Remis Auditorium.
The seven silent films chosen for the evening performance were largely experimental works that visually embodied the same avant garde innovation found in Verlaine's compositions. Two 1928 films from French director Man Ray, The Star of the Sea (L'Etoile de Mer) and Emak Bakia, were utilized to begin the two halves of the program, which included a ten-minute intermission. Also from France were Autumn Mist (Brumes D'Automne), a 1928 film by Dimitri Kirsanoff, and Cubist painter Fernand Leger's fascinating 1924 experiment Ballet Mechanique. The most recent of the films shown, They Caught the Ferry (1943), was actually a traffic safety short, but beautifully told in the hands of skilled Danish director Carl Theodor Dreyer (who is known for directing the haunting films The Passion of Joan of Arc and Vampyr—perhaps the scariest vampire film ever made). Rounding out the program were two American films, an impressionistic telling of Fall of the House of Usher (1928) and a dark little comedy called The Life and Death of 9413—A Hollywood Extra, heavily influenced by German expressionist films.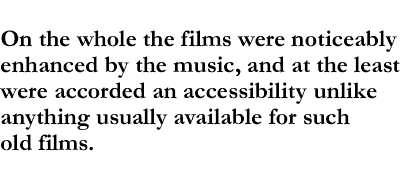 Verlaine and Ripp were seated with their electric guitars in the orchestra pit of the auditorium, just barely visible to the packed audience, below the screen. Ripp's more elaborate equipment setup provided much of the framework for Verlaine's melodies and musings. Their original music brought these 80 year-old films vibrantly to life without interfering with the films' original artistic intentions. On the whole the films were noticeably enhanced by the music, and at the least were accorded an accessibility unlike anything usually available for such old films. The cleverly woven guitar of Verlaine and Ripp lent both a resonance to the reflective tone poems (Autumn Mist and The Star of the Sea) and a fluidity to the studies of movement (They Caught the Ferry and Ballet Mechanique). The films seemed chosen for their dazzling nature, and the most magical of the visual effects were adequately complemented by the music, which employed a great deal of technical prowess and, one might say, sleight of hand.
Live, modern, new, and original music has accompanied resurrected motion picture classics like these with increasing frequency in recent years. Boston's Alloy Orchestra has made a career out of scoring music for silent films, debuting a new score at Colorado's Telluride Film Festival for the last ten years and recently debuting a brand new score (their second) for F.W. Murnau's classic Nosferatu. (As a side note, Alloy Orchestra member Roger Miller wrote the music for another recent film shown at the Museum of Fine Arts, Boston, Ennis' Gift). Philip Glass has composed a new score for the 1931 film of Dracula, which is one of the few cases in which the original was not a silent film. Contemporary luminaries Bill Frisell and Gary Lucas have also tackled guitar scores for silent films, with varied results. The guitar duo of Verlaine and Ripp are just one example of the many innovative teams bringing attention to some of these sadly forgotten films, but their creative approach surely makes them one of the best.