We had been studying poetry for three or four weeks—Shakespeare sonnets, Emily Dickinson epiphanies, Langston Hughes blues lyrics, and sonorous Robert Frost monologues written in blank American verse that cats and dogs can read. Some of them were writing about poetry in their final 1500-word papers, and I wanted to provide a model approach to such a paper, as well as to encourage real-world application of academically developed writing skills. So I went ahead and told my English literature students at the women's prison in Framingham about an article I needed to write over the coming weekend.
"It's gotta be roughly the length of the paper I'm asking you to write," I explained. "It'll be about a poetry symposium I attended recently [Saturday, April 12th] at a church in Harvard Square [the First Church in Cambridge, Congregational] at Radcliffe—what used to be the hoity-toity sister of Harvard when Harvard University was for alpha males only. More particularly"—now I was writing my topic on the classroom board and passing copies of the symposium program around—"I want my article to evaluate the role the Bunting Institute has played, with grants of year-long fellowships, in encouraging women poets to fulfill their considerable promise." Further, I said, I needed to evaluate the symposium's success at illustrating the importance of Bunting and Radcliffe Institute Fellowships. And I wondered if I could enlist their help in putting the article together, now that they—10 women of heart, mind, and strong convictions of both kinds who are trying to do softer time by attending Boston University's Prison Education Program—were becoming experts on expository writing.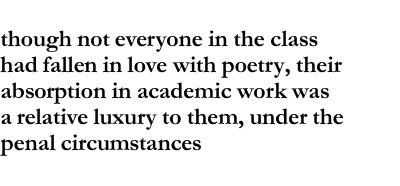 On their photocopies, my students could see that it was a day-long program, beginning at 10:00 a.m. with opening remarks by Drew Gilpin Faust, the dean of the Radcliffe Institute for Advanced Study; that the symposium opened with a panel discussion of Communities, Influences, and Friendships: The Fellowship of Poetry, moderated by former Bunting Institute director Florence Ladd and featuring testimony about influential teachers by former Bunting and Radcliffe poetry fellows Robin Becker, Maxine Kumin, Gail Mazur, and Natasha Trethewey; and that the first half of the day concluded with an 11:30 a.m. poetry reading by Maxine Kumin, the elder stateswoman of the bunch. After the 90-minute lunch break, the schedule listed a 1:45 p.m. reading by Mary Karr (prolific autobiographer in prose as well as poetry); another short break; a panel on The Use of Poetry: How Should Poetry Matter? with New Yorker poetry editor Alice Quinn introducing testimonies by former fellows C.D. Wright, Sophie Cabot Black, Lorna Goodison, Brenda Shaughnessy, Fanny Howe, and Jorie Graham; then another brief break—and finally the climactic reading by Graham, a language-as-landscape poet who has managed to remain in the mainstream by swimming upstream against its current until she reaches the weir and turns around to take a swift ride to the sea.
In our windowless gray-brick classroom in the original 19th Century women's reformatory building at Framingham, the women inmates wondered how they'd missed the invitation to the event, including the post-symposium reception in the luxuriously appointed Fay House in Radcliffe Yard. (The invitations must have been intercepted in the Department of Corrections mail room.) But they had their own kind of literary fellowship, their own use for literature, and though not everyone in the class had fallen in love with poetry (as they were more likely to have done with the short fiction we'd read), their absorption in academic work was a relative luxury to them, under the penal circumstances. They couldn't see, of course, how they could possibly help me outline a logical sequence of ten or twelve paragraphs for the article. They hadn't been there, and they didn't know the four-decade history of the Bunting and Radcliffe Institute poetry fellowships that the symposium was paying homage to. Sitting in plastic chairs around chip-board tables, in a room that once might have housed Victorian madwomen screaming cryptic nightmare language not that much different from Emily Dickinson poems through the bars, they looked at me and shrugged. This was too much to ask; I'd have to write the article on my own.
Checking the symposium program, I noticed that most of the former fellows in attendance were, to varying degrees, heiresses of the influential literary guard of the revival of the women's rights movement of the early 1970s. I told the class that the Bunting and Radcliffe Fellows represented a somewhat insular and dainty group of poets, compared to the array of hip-hop, slam, and performance-artist poets you hear about today, and almost said they were from the "big white house on the left" school of poetry. That is, they've never done time at MCI-Framingham, but can recollect in tranquility their sisterly solidarity from the '70s, and would still be more than happy to pull up the root causes of women's crime, including inherited poverty, oppression at the hands of powerful men, and the under-valuation of domestic, service, and even sexual labor. I was going to exclude the program's women of color—Ladd (though she's really a novelist) and Jamaican poet Lorna Goodison—from that category, and blithely pour Sophie Cabot Black into it, maybe including erudite references to harder-left poets such as Adrienne Rich and Audre Lorde. But one bright woman retorted right away, "But all artists are insulated, aren't they?"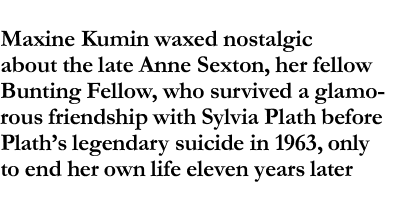 "Good point," I said. "You mean because they're outcasts, correct?" She nodded, and I continued by asking everyone to remember the Sylvia Plath poem "Mirror," which we'd discussed a couple of weeks before. A lot of them had written explications of that harrowing little poem's exploration of the surfaces and depths of female identity. "Well, she was kind of insulated herself," I remarked, feeling my own personal bell jar closing down over me. "Really?" wondered one rhetorically. "She doesn't seem like it." True enough—Plath was anything but timid about the world in her chillingly hot poems—and yet she lived in a sort of upper middle-class, gated-community style, with highballs at The Ritz-Carlton, a patrician accent in her poetry readings, and an undergraduate degree from Smith College. The leading public edge of the literary feminist movement back then was white and privileged, I said, not quite sure what my point was yet. "This insularity, of course, is different," I intoned, "from the kind of insulation in the walls of the Dickinson family's big white house in Amherst."
It would have been helpful to have someone as articulate and funny as Maxine Kumin there to help me. Seventyish, tidy and gray, stoic but relaxed, Kumin was among the original Bunting Fellows in the early '60s. Her literary lineage leads back to Plath. During her reading she waxed nostalgic about the late Anne Sexton, her fellow Bunting Fellow, who survived a glamorous friendship with Sylvia Plath before Plath's legendary suicide in 1963, only to end her own life eleven years later. Kumin recalled Sexton's extravagance—she wore furs, expensive clothing, and a nice do, lived in the western suburbs, and called Kumin (a sort of country gentlewoman poet known for Upcountry and other collections of poems) "the frumpiest of the frumps." Pioneers of literary feminism, Plath and Sexton publicized their private suffering, inadvertently or not becoming better-known to the public for their suicides than their poems. Kumin seems in no danger of being branded like Plath and Sexton. And in all fairness, she did read a series of "excremental" poems that aren't exactly dainty.
It's the legacy of the Plath and Sexton poems, not of their suicides, that remains with Kumin and younger poets such as Gail Mazur. Founding former director of the reliable and relevant Blacksmith House Poetry Series, held in Harvard Square on Monday nights during the spring and fall for 30 years, Mazur is an unpretentious woman with a soft voice and sympathetic poetry. She spoke affectionately of discovering the Grolier Poetry Book Shop on Plympton Street in her hometown of Cambridge, and of auditing Robert Lowell's class at a Harvard University she thought of as "our community college." After a modest beginning to her career, she's written a number of lovely poems in recent years—influenced more by the casually profound Elizabeth Bishop than the formally dramatic Plath—that culminated in the nomination of her 2001 collection You Can't Take That Away from Me for the National Book Award. Some of those poems she must have written during her Bunting Fellowship in 1997. But at the symposium she mostly read poems about "the fellowship of poetry" by other poets.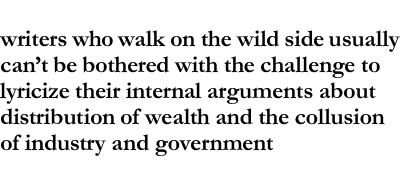 In class, we went on to discuss my students' own writing projects and then to read aloud in parts the one-act play Trifles, by Susan Glaspell, about a farm wife who's killed her husband for squeezing (figuratively) the life out of her and killing the songbird she kept as a kind of objective correlative in a cage. It seemed like a play that C.D. Wright might have admired. Cut from a different cloth than the gentler school of anecdote-and-epiphany poetry that Kumin and Mazur are from, Wright was a Bunting Fellow in 1988. (Don't even ask why they don't call them "Bunting Gals." And yes—Wright must use her initials partly in mockery of the distanced authority the practice gave to such male poets as T.S. Eliot and W.H. Auden.) She gave a conspicuously political presentation, advocating the "critical, emancipatory, visionary role of the seer for poets." After her impassioned talk about the need to make "radiance" possible and to oppose the oppressors at every turn, I wondered if her recent book, Steal Away: New and Selected Poems, might be worth a look.
Halfway through our reading of Trifles, while the sheriff and a neighboring farmer were looking for evidence upstairs, the women in the kitchen were finding the body of the songbird that the incarcerated murderess had kept as a symbol of her pre-marital joy. I thought of interrupting the class enactment of the play to call the Bunting poets a bunch of songbirds—but restrained myself.
Mary Karr, Bunting Fellow '90, proved at the symposium that she is a songbird of a different sort, a bardette, as it were, of those who grew up nasty in such raw places as East Texas and lived to write best-sellers about it—in her case, The Liar's Club. She's not overtly political like Wright, or like Robin Becker. Writers who walk on the wild side usually can't be bothered with the challenge to lyricize their internal arguments about distribution of wealth, collusion of industry and government, and corporate-sponsored destruction of the environment the way political poets in the tradition of Adrienne Rich and Audre Lorde have. But you sure as hell wouldn't find Laura or Barbara Bush quoting from Karr's poems "The Wife of Jesus Speaks" ("Inside me he never released the starry firmament") or "Flaming Heart" (about a man who "enters me in joy" and "sprouts from me as if from a split seed"). Or at least you wouldn't find them writing like that.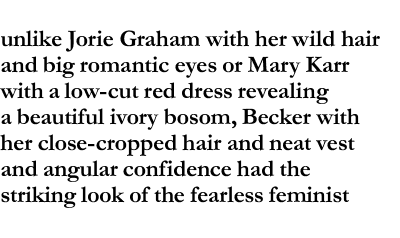 Probably the most renowned poet at the symposium, Jorie Graham is as Establishment as a poet could get. (Pulitzer Prize in 1996 for The Dream of the Unified Field: Selected Poems 1974-1994; Boylston Professor of Rhetoric and Oratory at Harvard University; Former MacArthur Fellow.) And yet she spoke about social issues and poetry with as much fury, coherence, and poetic color as the self-identified radical Wright did. Quoting Whitman, she said, "Do I contradict myself? Very well then, I contradict myself"—and then went on to do so in the most mind-widening way, first denouncing the entrancement by television of the pacified American masses, then turning around and saying that there's more poetic activity in the schools and homes of the country than ever before. "We need a poet for every Burger King," she said, this time quoting poet and art critic John Ashbery, and then read two poems, "Picnic" and "Who Watches from a Dark Porch," in the associative, difficult-to-follow, meditative style she's been working in since the 1980s.
It doesn't matter who was the most radical of them all. But maybe Robin Becker was—at least the most radical feminist—of the former Bunting and Radcliffe Fellows at the symposium. Unlike Jorie Graham with her wild hair and big romantic eyes or Mary Karr with a low-cut red dress revealing a beautiful ivory bosom, Becker with her close-cropped hair and neat vest and angular confidence had the striking look of the fearless feminist. She gave the symposium's most ringing, familiar old cry for powerful sisterhood, praising her mentor Maxine Kumin for helping her find the courage "to live in the troubled world." She's one of the "alices," after all—one of many Cambridge women poets who published their first volumes with feminist publishing collective alicejamesbooks back in the '70s, before it eased its ban on publishing male poets, upper-cased itself to Alice James Books, and moved its office to Farmington, Maine.
By the end of the class at MCI-Framingham, another thesis was beginning to formulate in my head. We had started to discuss another play on the syllabus—Antigone, by Sophocles. A young woman who defies the authoritarian king's order to not bury her treasonous brother, Antigone is a character cited by feminist psychologists as an archetypal example of women's more flexible moral sensibility. Women, runs the theory, are more capable of breaking the rigid rule of the law when a higher moral beauty is at stake.
"I think I'll go home and start on that article with Antigone in mind," I said at the end of the class. "And I think I'll make a claim for the Fellowships having successfully nurtured the careers of a lively range of poets."
"Are you nervous about having to write the article over the weekend?" someone asked.
"Nah," I replied. "I'd just better be careful what I say about these women."