The following article reflects the abbreviated online version of our magazine that was produced in conjunction with a monthly print issue.
---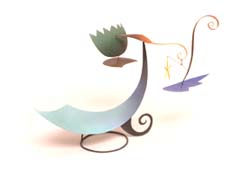 Four floors of hand-selected art from around the world — one floor of changing shows, three of permanent installations by various artists. The undeniable presence of the Pucker Gallery continues in this month's exhibit, which features the work of two artists whose styles are clearly disparate.
Mark Davis' hanging and standing mobiles make up "Movement Within Space". Originally a successful jewelry designer, Davis now crafts captivating motion in mobiles made from sterling silver, gold plate, brass, colored lacquer, and wood. Gunnar Norrman's exhibit "Nature and Life" features the Swedish artist's soft gray pencil and charcoal landscape drawings. Norrman, now in his 80s, studied science before making the shift to art.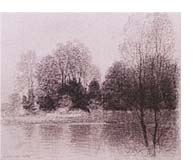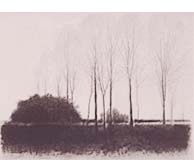 Top Mark Davis; "Colorful Swan"; 1998; brass, steel,
aluminum with laquer and acrylic paints; 12.5″ x 17.5″
Above Left Gunnar Norrman; "Skogsdamm"; 1974; conte; 7.5″ x 10.25″
Above Right Gunnar Norrman; "Marsväll"; 1980; drypoint; 4.25″ x 5.5″