October again (the 8th, to be precise). Here comes Low again, a record later. The venue is the same, the Coolidge Corner Theatre in Brookline, but Mark Eitzel is supporting them this time. Their connection with said Mark is still mysterious, at least to me; maybe they ran into each other on a bus in Idaho.
I should admit at the outset that my first acquaintance with the Minnesotan, 66%-Mormon Low took place while I was boiling some spaghetti—hardly the ideal scenario for a band that's been said to sound rather like Joy Division. Then again, I'm glad I wasn't hanging myself like Ian Curtis.
The second time I listened to them, I found myself wondering about the value of music reviews and speculating as to whether a music critic is, by definition and necessity, a narcissist. Such self-doubt, I suppose, was more appropriate.
As for Californian songwriter Mark Eitzel, former American Music Club frontman, he didn't even have the chance to be drowned by boiling spaghetti (one of the few misfortunes he seems to have avoided in his life) since I couldn't even spell his name prior to writing this article. Which doesn't say much for the range of this narcissist's musical background and casts a certain amount of doubt on her career prospects. Come to think of it, perhaps hanging oneself isn't such a bad while-listening activity.
Thankfully, I am saved from despair by my friend Saul Crump (peripatetic teacher, writer, and self-proclaimed best hope for the future of humanity), who fleshes out our list of musical comparisons for Low with the addition of late-eighties indie heroes Spacemen 3, Galaxie 500, and Slowdive. Which, for the uninitiated, means that Low plays slow, atmospheric songs: bare, beautiful melodies and minimalist instrumentation.
It would not be remotely surprising to discover that Low's dark sound has given rise to quite as many minor chord casualties as Joy Division's. And yet, at least at the concert, they appeared insensitive to their own aura of misery. Witness Zak (bass) cracking jokes—albeit old, badly-timed ones—during a tuning crisis mid-set. Or Alan (guitars, vocals) prosaically proclaiming minutes before the show that "it's about going up there, doing your job, and going back home." It should also be noted that this same Alan and Mimi (percussion, vocals) have been recently reproducing off-stage, which makes you suspect they live in some sort of hope.
And they certainly mean well. Among their merchandising items are pillowcases with the "Low" logo; "our music is kind of a therapy," Alan explains. Maybe—although of a distinctly disturbing kind. With a nice dose of irony they also sell a collection of magnetic words for your refrigerator, the usual repertoire of random words in language X being biased according to how often each word appears in Low songs. "Write your own stinkin' Low lyrics," reads the piece of cardboard next to them. I've already had hours of fun merely with the word "Canada."
The trip to the Low Memorabilia Stand was definitely worth the fifty-yard walk from my cinema seat. Besides pillowcases and stinking Low lyrics, I also managed an awkward conversation with Alan (certainly not his fault) and found out that Zak designs the t-shirts and draws cartoons. Incidentally, and in my modest opinion, this Zak is another great hope for the future of humanity, if only taken at face value (as it were).
However, a couple of trips to the Low Memorabilia Stand were enough and the concert was still not starting. Meeting Jason W. Smith, who wrote a Low review for ArtsEditor two years ago, occupied another five minutes, but (again, not his fault) occasioned more inferiority complexes than entertainment. Prompted by the chance comment of another acquaintance (who, as far as I know, has expressed no opinion regarding his value to the future of humanity), I set out to get a better feel for the audience. An improvised statistical analysis confirmed my prediction that the majority of Low fans wear black underwear. Surprisingly, I was able to verify in the majority of cases without explicit inquiry.
Apart from being enjoyable in itself, the underwear survey also provided me with the opportunity to meet Pell Mell's guitarist David Spalding, who claims to be a personal friend of Mark Eitzel. Although a relatively obscure band, Pell Mell's instrumental music has recently turned up in random TV series such as Six Feet Under and Sex and the City. Spalding toured with Mark for a while, and he thinks very highly of him. (Mark, you were described as a fantastic human being.) He did express his doubts about me writing a review, but he was very nice all the same.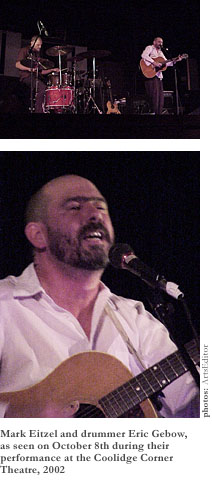 Finally, the Fantastic Human Being himself appeared, a good hour later than advertised, accompanied by drummer Eric Gebow. We actually knew what was coming at this point, as we had already heard the hairy twosome during the sound check—which, in its brief, intense perfection, was possibly even better than their real concert. In both cases, Eitzel seemed to get more carried away by his songs' emotional load than Low did, and the usual laid-back, blasé quality of his vocals (I have finally heard his records) was replaced by contained anger and frustration. Eric, the amazing, stone-age-looking drummer, contributed significantly to this ambience too—although he also managed, somewhat miraculously, to put in numerous subtle xylophone sprinkles amidst all the skin-bashing. Only Mark can tell us whether this new aggression had anything to do with his membership in the new "power trio" tentatively named American Monobrow, promising "thrashed-out punk rock" and "raw new heavier material," mentioned on Matador Records' Web site. All I can say is that his arrangement of his facial hair certainly justifies the choice of that band-name. He also told a heckler in the audience ("you used to write good songs!") to "fuck off," which makes you wonder about the Fantastic Human Being claim—although being patient and fantastic are two different things, I suppose.
He certainly played up the anti-hero part quite a bit, but we can forgive him for that since he told such funny stories about his lyrics' sources during the breaks between songs. Him calling up a gay biker therapist in San Francisco was my personal favorite. Which fits nicely with his lyrics about gay male strippers being heroes in the war against terrorism. (Did I hear all that right?) Finally, in a slightly theatrical scene, Eric the drummer and a shy, anxious Eitzel walked out, the latter's tail between his legs, worried that he had gone on too long and that we were impatient for Low to appear. Maybe all the therapy still hasn't quite worked.
And so, as the rushed roadies scurried away, Low duly shuffled out into the limelight. They began their breathtaking performance with a rotund, mesmerizing version of their new song "Shots and Ladders," which very much set the overall tone of the concert—whether you like their music or not, hearing them live is an atmospheric experience, both soothing and disturbing. "Canada" followed not long after, as did many of the songs from the just-released Trust. In Alan's own words, "With Trust we've tried some new things and taken some risks." "Canada" justifies the approach. Its obscure lyrics do, however, leave you wondering exactly what this stuff is that you can't take to Canada. A few suggestions are on my refrigerator, if anyone's interested.
Although overall I do not regard Trust as a success (there are bland, dispassionate songs and overall the outcome is certainly mixed), the concert is not worthy of the same mixed reviews. Low picked out the right songs from the album and played them in a way that fitted perfectly with older ones.
Their performance ended abruptly with Alan apparently deciding he couldn't be bothered playing the rest of "Candy Girl" (a feeling, he confessed to me at the souvenir stand, that he gets quite often during concerts). Instead, he gave us a useful piece of advice: "don't let anybody come into your house and kill you." What can I say? I'll bear that in mind, Alan, together with your "don't forget to drink enough water," available online.
Perhaps my neglect of such pearls of wisdom explains why I was already half-asleep by this point. Or maybe it was the pillowcases. Nevertheless, it is fair to say that you wouldn't want to be washing dishes when Low are playing for you live. The understated power and beauty of their songs deserves—indeed, demands—your undivided attention. But by 1:30 on a weekday morning you just want to join Ian Curtis and rest in peace.