One of Cape Cod's newest art venues in that quintessential summer town of Wellfleet, Massachusetts is called the Sandpiper Gallery. This historic red building with the ample shell white parking lot, situated on "The Creek," is filled with paintings and other objects d'art of diverse styles and subject matter.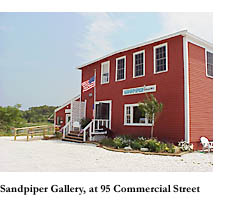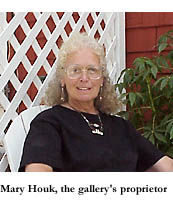 Mary Houk, proprietor of the Sandpiper Gallery, is also a Wellfleet resident along with her husband Jerry. Located on Commercial Street, the gallery space previously housed the Wellfleet Artisan Co-op, until last year. According to Mary, "The building was at one time a pants factory, where they made overalls and work pants. Then it became a grain and feed store, which was acquired by Wirthmore Feed and Grain, a franchise throughout New England, whose trademark was to paint all their stores red with white trim. It later became Mooney's Fuel and Grain, then the Co-op, and now us." To the right of the gallery is the former train station, which ran passenger service from 1870 until 1938 and freight service until sometime in the '50s.
Thrilled with the opportunity to design a gallery of her own, Mary, with Jerry's help worked all winter renovating the inside of the space. "The biggest change was opening up the wall space," says Jerry. "We took down a lot of unnecessary walls, and exposed some of this beautiful wood that was being covered up" he adds, referring to the attractive antique posts and beams that now pervade the interior. A well-stocked storage area has been added in case an interested client needs to see more work by a particular artist. The other tenants that share the building are the Tracy Harmon watercolor studio/gallery, Leap Frog Press, and an assortment of artists' work spaces upstairs.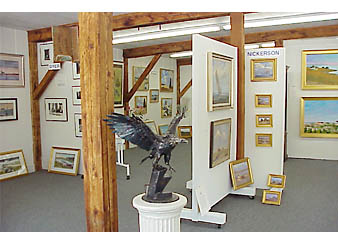 The Houks are no strangers to Wellfleet or the Cape Cod gallery scene. They met in Provincetown in 1959. Permanent residents of Wellfleet since the '70s, they know the area well. Mary also worked for ten years at the Blue Heron Gallery, located just up the street.
When asked if she had a particular style in mind for the look and feel of her gallery, Mary's answer is as straightforward and sincere as one could expect. "I choose things that I like looking at," she says simply.
Looking around the gallery walls, one finds an assortment of interesting painting styles and themes to look at, most of them created by Cape Cod artists. And while there are ample depictions of the usual Cape Cod fare (competently rendered sailboats and marshes), one can also find refreshing surprises.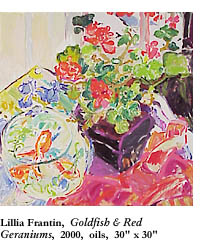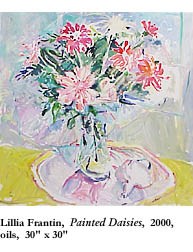 Lillia Frantin, a painter and teacher of art, who lives in Woods Hole, Massachusetts, is well represented here with her colorfully expressionistic landscapes and still life scenes. These vibrant neo-Fauvist canvases are unrestrained celebrations of the way light turns into color, and then turns back. Uninhibited by formal constraints, Lillia puts the paint on the canvas as an honest and direct response to the scene before her, painting in a language that is truly her own. The landscapes that are currently on view at the gallery are scenes captured mostly from painting forays on Cape Cod and in New Mexico, where Lillia and her husband Herb Edwards, also a painter and teacher, lived for a time.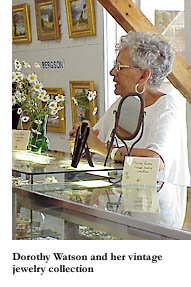 Lillia is part of an upper Cape Cod contingent of artists that Mary and Jerry discovered while visiting the Cataumet Art Center in Bourne, Massachusetts, last February. Herb is represented by the Blue Heron Gallery, a fact that suggests how intimate the Cape Cod art world can be. The Sandpiper Gallery now represents several artists associated with the Cataumet Art Center.
Also present at the Sandpiper Gallery is Dorothy Watson and her vintage jewelry collection, an impressive assortment of genuine gold, silver, and plated fashion jewelry, dating from as far back as the Victorian era, and up until the art deco period of the 1930s. Dorothy is a long-time friend of the Houks. She also helped start the Wellfleet gallery tradition in 1953 by opening "The Golden Cod." Named for the famed state mascot hanging in the legislators' building in Boston, "The Golden Cod" was the first Wellfleet gallery devoted exclusively to fine arts. Today, Wellfleet might have more galleries per capita than any other town in the state. That is probably the reason it bills itself as "Cape Cod's gallery town."
The official grand opening of the Sandpiper Gallery for this season was held on a gorgeous late spring evening in May, not coincidentally the same night that several other prominent Wellfleet galleries staged their season openings.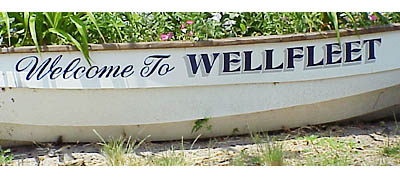 The Sandpiper Gallery, located at 95 Commercial Street in Wellfleet, is open every day in the summer from 10 am to 6 pm and on Saturdays from 10 am to 8 pm.