The Boston stop on a recently completed tour by Portland, Oregon band The Joggers felt something like a homecoming gig—primarily because the majority of the band's members originally hail from New England. With a number of successful tour dates already under their belt, The Joggers pulled their van up to the Lansdowne Street venue, where they would headline the evening's entertainment. Preceding their performance were four standard-issue rock bands who, despite disparate geographical and musical backgrounds, were unified by a lack of originality and the certainty of paling in comparison to the refreshing sounds of The Joggers.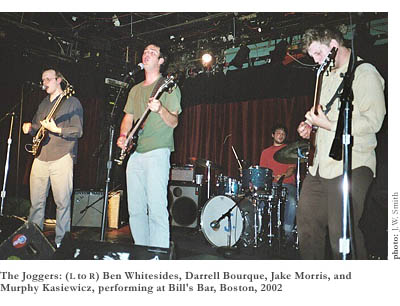 The Joggers' take on rock music draws from a wealth of influences, including groundbreaking indie rock flag-wavers Pavement and adventurous sonic sculptors Polvo. The Joggers' sound pits jagged melodies and jaunty rhythms against lead singer Ben Whitesides' obtuse lyricism, while the syncopated interplay of guitar between Whitesides and Murphy Kasiewicz fits snugly within the framework of Darrell Bourque's fluid bass and Jake Morris' incisive drumwork. In addition, the stylistically transcendent backing vocals, wherein each member supplies an equal part of the unique harmonious whole, prove all four of the Joggers are skilled vocalists in their own right. (In fact, drummer Morris provided his vocal talent to a rendition of a Stevie Wonder ballad at a wedding held on a day off mid-tour.) Live, The Joggers exude a feeling of ease—probably a direct result of the fact that they are having so much fun onstage, while managing to remain tightly knit all the while. It's something to behold on record, but as the Joggers took the stage at Bill's Bar just before midnight, it was something else altogether.
Early in 2000, Stateside (as The Joggers were known in their original incarnation) began rehearsing after getting together at the Portland residence occupied by members Whitesides and Bourque, and it wasn't long before they were playing out around town. They then released a smartly packaged 5-song CD with a title, One Timer, which turned out to be prophetic, as the band broke up shortly thereafter. Then, as these things often happen, they were back together again, and with a new name and another, even better CD, called simply The Joggers.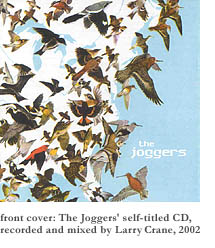 Following the previous night's cathartic Boston performance, the band spends part of the day relaxing at the Whitesides family home in Newton, Massachusetts. After checking the band's e-mail account, Whitesides pulls up a streaming music video by the French Kicks, a Brooklyn combo much hyped in the wake of vogue NYC bands like the Strokes, and who've been Joggers acquaintances ever since they shared the bill at a Portland gig (back when Joggers were still Stateside). When Whitesides receives an indifferent response to the inevitable question "What do you think of the French Kicks?" he comments, half-jokingly, that The Joggers have encountered a similar ambivalence: "People say, yeah—The Joggers, they're great guys to hang out with, but I'm not really into their music." Are The Joggers an acquired taste? You wouldn't know it from the consistently overwhelming response from audiences at various dates along the tour, from Missoula, Montana—where avid listeners came in droves—to Cortland, New York—where the sound man at a relatively empty club hailed them as the best new thing he'd heard in some time. Even when there's no one around to impress, The Joggers continue to impress.
The next stop on the tour after Boston was New York, where The Joggers played an early engagement at Brooklyn's The North Six to a receptive crowd. "It was packed for our set," remembers Bourque, who adds, "Once we were done the place emptied." The gig also fortuitously fell on a date during the CMJ Festival, a week-long showcasing event sponsored by the College Music Journal and infamously flooded with record label scouts. So in addition to a few fans, have The Joggers managed to convert also some record business types? "We're talking with labels tomorrow," says Bourque, "It's pretty exciting."
Mid-tour, the band receives an e-mail from a D.C. club they'd been hankering to play, but unfortunately they're booked elsewhere on the date available. Which one should they keep? Whitesides responds with, perhaps, the better question—in regard to their rapidly depleting financial resources, "Well…which one pays more?" Boston-based Medea Connection, also on tour this past November, experienced similar on-the-road, off-the-cuff changes. Medea singer/guitarist Daniel Brockman relates, "A Saturday night show we had in Syracuse fell through, but we called a club in Buffalo that day, and they offered to put us on that night's bill as a last-minute addition, since we were already going to be coming through town." Happy accidents such as these, however, are not the norm in the rock and roll touring lifestyle, particularly on lengthier jaunts like The Joggers' (which lasted an entire month). When one considers the flip side—the grueling travel, the lost sleep, the dearth of private space, etc.—is it really all worth it? Certainly—most rock bands would surely agree that being able to share the music makes it all worthwhile; otherwise they wouldn't be out there to begin with.
Now that The Joggers have returned home, triumphant and road-weary, will things be back to normal for a while? It's a good bet that they will continue working on new tunes, and that Bourque and Whitesides may continue with a side project they call the Cajun Gems (a moniker under which they self-released a limited-edition CD). And lest we forget—just how did that Stevie Wonder song go over? "Jake's Stevie was huge," reports Bourque, "He nailed it."