Eleven years ago, Judy Laster and Kate Davis "sort of tongue-in-cheekily decided to make the East Coast version of Sundance," says Laster, director of the Woods Hole Film Festival (WHFF), Cape Cod's largest film festival, boasting 70 screenings over eight days in five venues between Falmouth and Woods Hole, Massachusetts.
What started as a one-day, one-hour event now "generates its own traffic" in the southwest corner of the Cape, determining many filmgoers' vacation schedules, Laster observes. For many, it's "vacationing with a purpose, a grown-up version of camp," she says, and some come back each year for more.
The intimate and yet high-quality Festival, which ran this summer from July 27th to August 3rd, "brings people together in a new way. Filmmakers are able to meet one another," and the full eight days "help the Festival develop a rhythm and pace of its own, the kind of energy you can't manufacture."
WHFF creates an important metaphorical space "where independent people can take back the power, and make the world how they want it," Laster adds. Independent film in general "can be like swimming upstream," she acknowledges, "but it's such a freeing feeling—to shape the way people think" in an age where people are "spoon-fed everything."
"We will never be a Hollywood festival," she says emphatically, alluding to the large, multimillion-dollar studios that seem to create cookie-cutter bits of entertainment. Independent filmmakers have the flexibility to shape their art, freedom that is worth the inevitable financial insecurity of the field.

Animation artist Dave Gordon, director of the short comedy Director Bugs, enjoys his independence. "If I worked for Disney, I'd be drawing elbows," he said before his film's August 3rd premiere. Independent films can—and must—avoid the "horrible homogenization" of Hollywood, Boston Phoenix film critic Gerry Peary emphasized at a critics' panel at the Redfield Auditorium, August 1st.
The panel discussion, led by Tim Miller of the Cape Cod Times, added another dimension to the busy Festival. "It was good to hear things from their perspective," Laster notes. After all, as Peary pointed out, "We're all here out of passion."
Catering to first-time and New England filmmakers, the Festival attracts filmmakers and audiences from all over the world. Irish filmmaker David Elio Malocco's heist-comedy Virgin Cowboys broke all sorts of rules but managed to dominate conversations days after the July 30th screening.
One scene, when Lee James' character simultaneously talks to the camera and to another character, is made even more surreal with an added voice-over. "People said, 'You can't do that,'" Malocco recalls, laughing, "and I said, 'Says who? We can have everything.'"
"We've got to put some hot sauce in it, gotta jazz it up," he resolves.
In addition to the films and panel discussion, there were workshops, staged readings, parties, and coffee with the filmmakers. A screenwriting competition was implemented for the first time this year, with the winning screenplays read by a cast of local actors at the Woods Hole Community Hall, July 30th.
"We wanted to get the best scripts possible," explains J.P. Ouellette, director of the Screenwriting Contest and Festival treasurer. An added bonus of the staged readings, he says, is the chance for the writers to hear audience criticism of their scripts.
The audience plays another important role in WHFF: audience awards for each genre of film. It's like an award just to be in the Festival, however, with each film hand-selected for high craftsmanship and audience connectivity and only about a quarter of submitted films even making it to the screen.
Runner-up for Best Feature Drama was Susan Brigham's Greasewood Flat, screened opening night at Falmouth's Nickelodeon Cinema. In the film, Johnny (Chip Adams), a "struggling Blues musician," comes home to three generations of women and his country music roots. Richly developed characters and a realistic screenplay make Greasewood Flat a compelling film, the directorial debut for Brigham, formerly an actress.
Brigham wanted to make a film that features strong women, and the screenplay expanded from there. Writing it was so enjoyable that she often spent twelve hours in front of the computer, developing the subtle nuances of each character; Johnny's character has traces of Brigham's brother, a musician.
"Sometimes you just try something and it fits," Brigham says of writing and directing, convinced to "do it all over again." But for now, she (and her film) will be hitting various film festivals, garnering publicity for the product of the past three years.
There were other honors besides the audience awards: a Director's Award for Cinematography, which went to Tom Curran's feature documentary Adrift, and four New England Emerging Film Maker Awards. These awards, for up-and-coming filmmakers, are a new aspect of the Festival, determined by a panel of Festival screeners with prizes sponsored by VTI Boston, Donlin Teleproduction Engineering, The Film Loft, and Boston Camera Rental Company.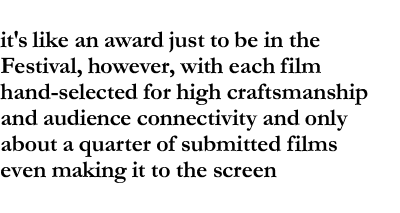 Jenny McCracken of Boston won The Film Loft's prize for her 8.5-minute drama Water from the Moon, screened August 3rd. Based on José Pierre's short story "The Angel Closet," Water from the Moon is a black-and-white film with live-action puppetry in which a lonely washerwoman discovers a winged man in her closet.
A visual artist with an honors degree in fine arts from the University of Massachusetts, McCracken says she "had been doing a lot of artwork of people with wings" when she decided to make the film. It began as an honors project in college, but developed a life of its own.
Partially inspired by Oscar Kokoschka's painting Woman in Blue, a portrait of a doll, McCracken began thinking of working with life-sized dolls—her mother, Joann McCracken, made dolls for a living—but the Barbie-sized scale of a wardrobe she found at a yard sale determined the dimensions of the whole project.
Nikki Tilroe manipulated the puppets, built by McCracken, and the two other puppeteers discovered that working with film expanded the possibilities of manipulating the puppets. In one scene, for instance, the woman hangs out the window, a feat that would be impossible without editing, McCracken explains. Despite fleeting moments when the puppet strings glisten in the light, there is a general illusion that the puppets are living and breathing.
McCracken attempted to give the film "an older, silent film" dreamlike quality with dialogue in text boxes rather than voice-overs and string music commissioned for the film by Johannes Ammon.
Every detail was planned, she explains, adding, "It was really nice to be able to control everything" on a set the size of a tabletop.
Terry Montlick's Telephone also won an Emerging Film Maker Award, sponsored by Donlin Teleproduction Engineering. Before the August 3rd showing, Telephone appeared in festivals in Rome and Brazil, but Montlick stayed at home. Woods Hole Film Festival is his favorite festival "because it is such an intimate venue," he says, noting that this was the first time he watched an audience react to the film.
With a simple set and a single actor, Telephone is captivating in its purity. The actual story "went through a lot of evolution," Montlick says, although he always knew the kind of film he wanted. The drama would be created through the actor's performance, "so I knew I needed a good actor," he says.
Spencer Beglarian, whose short comedy Audit was screened just before Telephone, starred in Montlick's film. "I knew he was right even before hearing him talk," Montlick remembers, having seen Beglarian play a dog in Dog Days.
Telephone takes place in a small office of a pharmaceutical company in 1960, where a man, on a job tryout, gets a chilling call that forces him into critical decision-making. The 19-minute, black-and-white drama develops slowly and builds like an emotional crescendo, "so it gives you time to get into the story."
It was shot on film as opposed to video, because, as Montlick says, "I'm a purist and there's nothing that will replace the quality of film. It's a much richer medium."
In addition to directing and writing, Montlick enjoys all aspects of filmmaking, doing all he can do "to connect with the film, to become more intimate with it." He designed and built the set and did the sound design.
"Every piece of music originated from the telephone, the venerable Model 500," Montlick explains. Using analog and digital techniques, he slowed the sound of the ringer between eight and 64 times.
From the ringer—"essentially a bell"—Montlick generated a full harmonic scale. New York-based avant-garde composer Eve Beglarian, Spencer's wife, embellished the sound to create a complex musical score. And further contortions with the computer "added a beautiful Twilight Zone eeriness," Montlick says.
Sound recordist José Léon, a veteran of over 100 Cuban films, contributed another of the film's details. They inserted a half-inch plant microphone into the telephone receiver, for more flexibility with the set. "It wasn't supposed to be possible, but we did it," he says.
"The classic theme of filmmaking," Montlick explains, "is the struggle to make something appear easy and everyday." He illustrates his point with a description of making the "breeze" blow through the plastic willow tree outside the set's window. It looked natural, but wasn't. "There were a lot of touches like that," he admits, saying that only in a completely artificial environment could he control everything such as the noise of traffic.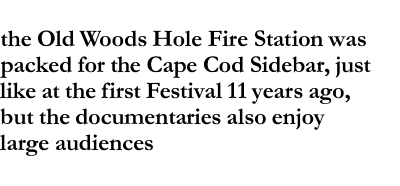 Every moment is significant with short films, an artistic end unto themselves, even though there is no commercial market. Fortunately for the makers of short films, festivals offer visibility. There are five programs of shorts in WHFF because of consistent audience appeal, J.P. Ouellette explains.
"You're almost guaranteed to like something," if several short films are shown, so it's less of a gamble for a filmgoer's time and money, he says. "It's a sure bet there'll be something good."
Paul Rifkin, who directed the short experimental film Cecil's Prayer, observes with a chuckle that it is easier to sit through a bad short film than a bad long one. Shown during the Cape Cod Sidebar July 31st, his five-and-a-half-minute film features an improvised performance by jazz bassist Cecil McBee in front of Falmouth's Highfield Hall.
McBee's "prayer" is that this historic building be saved and converted into an arts center for the upper Cape.
"The film tells in an artsy, jazzy way what went on" as the privately owned building was taken over by the town before it could be torn down, Rifkin says. When he started the project in 1994, he "wanted to let people know what was going on," he explains, "and it empowered me to want to make other films."
He started making films eight years ago but has been with a camera since childhood. Film is a "way to express yourself. Then you can say something to the world," he affirms.
Rifkin is involved in a longer movie about the entire restoration of Highfield Hall. Depending on funding, he predicts that film will be done about three years from now, but Cecil's Prayer is meant to stand alone. It is meant to inspire people about the Highfield project and "show its artistic vision."
The film itself has an artistic vision, with "a jazzy type of editing, post-production, on the computer," says Rifkin. Changing colors and manipulations that transform the image of McBee into pointillism and a black-and-white negative, among other effects, visually enhance the music.
To make Cecil's Prayer, Rifkin collaborated with painter Kathy Twombly, "the spiritual grandmother of keeping the building," and filmmaker David Souza.
Five other films appeared in the Cape Cod Sidebar, including Thomas Bena's Capawock, whose title refers to the Indian name for Martha's Vineyard. Inspiration came while Bena was looking off a cliff at the crashing ocean below, feeling "an amazing rush. I wanted to scream and yell and sing, and this must have been the spirit the Indians felt before all those 'No Trespassing' signs went up."
In the film, a simple conversation is enough to change a rich land-owner's mind about daring to decide who walks along his ocean-front property. But the highlight of Capawock is footage of an interview with Wampanoag Medicine Man Luther Madison, who watched as Martha's Vineyard was divided up into expensive real estate littered with signs forbidding access.
"This film is really from the heart," says Bena, who believes people should respect Nature: "slow down and stop raping the Earth."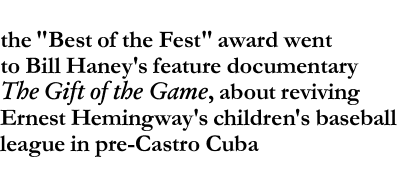 The Old Woods Hole Fire Station was packed for the Cape Cod Sidebar, just like at the first Festival 11 years ago, but the documentaries also enjoy large audiences, J.P. Ouellette notes.
"They're oriented to certain types of people," he explains. Music lovers would be attracted to Joel Katz's multifaceted Strange Fruit, an exploration of Abel Meeropol's song and Billie Holiday's interpretation of it. The song "Strange Fruit" brought the concept of lynching to the forefront of the American consciousness—at least to those who stopped to listen—just as Katz's film challenges its viewers to consider, for example, the relationship between lynching and McCarthyism, or, more subtly, the connection between singing and filmmaking.
Lexie Shabel's innovative House of Rock documents five caveists in the red rock country of the American Southwest who blast their homes out of rock. "Positive living in a negative space," as interviewee Grant Johnson puts it, is an awe-inspiring "rockumentary" about unusual interior design. The dynamite blasts are dramatic, but it is Shabel's capturing of each individual's distinct personality—including a celestial pluralist, a geologist, and escapist—that adds fluidity and humanity to the film, winner of the Best Documentary award at Knoxville's Valleyfest last March.
The "Best of the Fest" award went to Bill Haney's feature documentary The Gift of the Game, about reviving Ernest Hemingway's children's baseball league in pre-Castro Cuba. The Gift was screened August 1st with the short comedy Back in the Game, another baseball-themed film, written and directed by Rick Beausoleil, winner of the audience award for Best Short Comedy.
"We pride ourselves on our programs," Judy Laster says. "They all have a certain tonality, which is appealing to the audience. Some of it is serendipity," she says, mentioning that WHFF can't control which films are submitted, but the Festival coordinators are also deliberate about "what goes with what."
With two feature documentaries showing July 31st, the second annual Marine Program was a Festival highlight. The location in Woods Hole, a center of marine research, increased the program's relevance. Depleted fish populations and related problems "become more important every day," J.P. Ouellette says, mentioning WHFF's developing Film Institute, a continual partnership with the scientific community.
At the intersection of film and science, "how can we [filmmakers] make science more interesting, and more accurate?" he asks. There was a preliminary meeting for the Institute during the Festival, and "it's very exciting," Laster admits, hoping this will lead to year-round events.
Like the Festival itself, many things can be accomplished with a flexible mind and a bit of funding. "Everybody is willing to do something when there is something worth doing," Laster concludes.